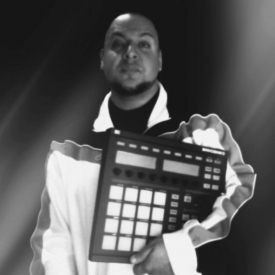 Get Your Buzz Up is back with an all new "Buzz'N" iNterview session. For this article, we are blessed to be joined by fast rising, Chicago producer A-Villa. A is also gearing up to drop his production album titled "Carry On Tradition" on September 23rd. So without any further ado, let's get into it with A-Villa.
A-Villa, we're humbled you could take the time to chop it up with us. For starters, could you share with the viewers a little about yourself, where you're from and the type of music you produce?
I go by the name of A-Villa, I'm from Chicago Illinois, I'm a father to an amazing daughter, I'm a Vice President of a bank, and I make Hip Hop music. As far as my style or what type of music I produce, it varies. I could create and adapt to any style, but I prefer hard hitting, soulful, and sample-driven soundscapes. However, I like to mix it up with some live instrumentation as well and bridge the gap between analog & digital. It's my take on the music being made in the golden era, but with a fresh and modern perspective.
So word is you've only been producing beats since 2010, is this true? What inspired you to get into producing beats and such? You've noted that your major motivation to making music was the death of Gangstarr's Guru. Could you also touch on that topic?
Well, I was going thru the daily grind of a work career in Finance & Banking and was just getting a bit bored. I needed a creative outlet and music just became my new hobby. I didn't take it serious at first. I bought an MPC 3000, some turntables, and I was just trying to make beats for fun. Like a lot of new beatmakers, I was learning the equipment and just trying to get better beat by beat. I didn't really take music serious until right after Guru of Gang Starr passed away. I didn't know Guru personally, I was just a fan of his work with Gang Starr. However, his passing came at a time when I was seeking something new. It was just further proof that nothing is promised, especially tomorrow and I just wanted to make my mark on the world. I could always work for the rest of my life, make lots of money, and leave it all to my children, but money and assets don't represent me as a person. Doing something in music was always a dream of mine and I just finally got the courage to pursue it. I then started competing in producer competitions or beat battles and I was winning most of the events. That was just further proof that I was on to something special.
Some other interesting facts are that you're a dedicated father and V.P. of a bank branch out of Chicago. With all that being said, how do you find a balance between all these roles? How do you utilize your time in the studio?
That's a good question… I really do feel like I'm living three or four different lives. I leave my house early in the morning in a suit, drive an hour to my office, put in work there most of the day, then go to the studio or something music-related right after, put in more work there, drive an hour back home, spend some quality time with my daughter, and sometimes put in extra work on music when she's asleep at night. Between all of that, I'm usually taking care of life stuff and I don't sleep as much as I should. Being a father is a 24/7 full-time responsibility in itself, but that's not work to me. I love being a father more than anything else. The way I look at it, I'm working my bank career for my daughter and making music for her too. But my time is precious, especially anytime away from my daughter. So when I'm in the studio, I'm fully focused and committed to making the most of my time and making good music. I may create the foundation of a beat at my home studio, take it to a bigger studio to record vocals or instruments, and then take it to an even bigger studio to mix & master. It's time consuming but it's all worth it once the music is finished and the people get to listen to & enjoy it.
Congratulations on the success of your first single, "The Warrior, The Philosopher, & The Rebel". The track has really won over hip hop heads from across the nation and has found itself in rotation on Shade 45. Could you explain how the track was created? The title also seems a perfect fit to each emcee featured on the cut: Lil Fame, Cormega & Killer Mike. Was that how the title's concept came to be?
Yeah man, this first single has been getting a lot of love and it's truly a blessing to get such a positive response from the people who've heard it. With this particular song, my intentions was to make my version of a "tunnel banger". As a Hip Hop head in the 90s…some have been to, heard stories about, or know of the legendary NYC club "The Tunnel". And if you are aware of the club, you are probably even more aware of the term "tunnel banger". When I think of a "tunnel banger", I think of classics like "All About The Benjamins", "Where My Dogs At", "Simon Says", and "Ante Up". They're high energy hip hop records that make you put on your screw face and wild out in the club. I always wanted to create that type of record and I think we succeeded. Loud blaring horns, hard drums, Lil Fame's violent energy, Cormega's lyrical consciousness, and Killer Mike's southernplayalistic stylings is that right pot of gumbo for a "tunnel banger". And the title of the track represents each artist with Lil' Fame as "The Warrior", Cormega as "The Philosopher", and Killer Mike as "The Rebel". On paper, the lineup probably shouldn't work, but it does.
So your album is dropping on September 23rd and is titled "Carry On Tradition". Why did you choose this specific title for the project?
I had that title locked-in for a long time and "Carry On Tradition" is actually the name of the first song I've made with actual artists. Both Mikkey Halsted and Rapper Big Pooh were the first artists to support my music. I had that beat with the AZ vocal sample on it and they both loved it. We knocked it out and I decided to keep it for my album. Plus, the concept of the record and the birth of my daughter gave me the platform and title for the actual album. With "Carry On Tradition", I'm expressing my love for hip hop music, representing the era I came up on, and bridging the gap with the older heads and the newer Hip Hop artists & listeners. Musically, I wanted to include the elements of MCing, DJing, and sampling, but with a broader feel that could translate to all generations of Hip Hop listeners. That was the idea in working with a legend such as Kool G Rap on the album and then having another record with a younger artist such as Chance The Rapper. The Chance fans could listen to the album, hear someone like a Kool G Rap, and find out who he is. And vice versa, with the older heads being introduced to someone like Chance The Rapper by hearing an album with Kool G Rap on it. I just feel like Hip Hop is somewhat segregated in terms of age and it makes no sense when you consider that Jay-Z and Eminem are still at the height of their careers beyond the age of 40. We just have to embrace each other's movements, work together, and let everyone shine. And although there are still older artists making good music, I do feel like the torch is being passed to a new generation of talented artists, producers, DJs, and fans. And as a relatively new producer, I do feel I'm one of the ones carrying the torch right now and I will be passing it on to my daughter or the next generation of artists someday. But while I carry the torch, I want to represent the culture and the music in the right way.
Can you share with our readers what the next single will be to drop from the album? Are there any plans to shoot videos for any of the songs?
My label Closed Sessions & I decided to do something different and pretty cool by letting the fans pick the next single. We're going to do a poll and let the people speak on what they want to hear next from my album. Right now, we're in the process of narrowing it down to two songs, otherwise I would let you know what songs they could pick from. Expect more info in the next two weeks. And far as videos are concerned, we are definitely looking to shoot visuals for some of the songs. We actually have footage in the vault right now, but we may do something unique with the video releases and not just throw it out there. There is so much music released on a daily basis because of social media, blogs, and such. It can be overwhelming for the average listener and music sometimes gets lost in the shuffle as a result. So we're really trying to be creative with the roll out of the music and make sure it stands out from the rest of the pack. I hope to release two to three more singles before the album release.
Big K.R.I.T., Action Bronson, Kool G Rap, Joell Ortiz, Freeway, Michael Christmas, Roc Marciano, N.O.R.E., Macie Stewart, AZ, Havoc, Freddie Gibbs are just some of the artists featured on the album. A question I'm sure people are wondering is how you managed to get all these emcees verses together? Did you send each beat to a particular emcee and explain the song concept? Enquiring producers want to know! LOL
It was definitely not easy and it was the main reason why the album took so long to complete. It was pretty much me networking with artists through Facebook, Twitter, at shows, at meet & greets, at after parties, or wherever I can get in touch with the artists I wanted to work with. If there was an artist in town I wanted to work with, I was trying to meet them, tell them my story, and give them a sample of my music. I had no manager or team to help me, so it was just me doing this off and on for almost 3 years. Trust me, I heard "no" or "talk to my manager" a lot, but I never got discouraged. I just tried to communicate with as many artists that I was a fan of and it was a process of elimination in regards to who agreed to work with me and who wouldn't. And at the end of the day, some artists just want to make good music and they liked what they heard. They also seen that I was genuine and I wasn't trying to exploit them in anyway. And once I had a few songs with some big name artists on it, it was further proof to the other artists that I was on to something. In terms of how the songs were structured with the verses and concepts, I just strategized who I would want to hear on a song together. Sometimes it didn't make sense on paper, but I think that's what makes my album unique. I didn't want to do the normal producer compilation album. And there are so many collaboration songs nowadays, you get tired of hearing the same people rapping on a song together. I wanted to challenge the listener to have an open mind and except an artist such as Big K.R.I.T. rapping on a really hard boom bap type of record. And then include other artists around Big K.R.I.T. that you wouldn't normally hear him collaborate with. Then the actual beat and what I titled each beat gave way to the concept of the song, which the artists followed and fleshed out even more. If I wasn't in the studio with the artists, I would send it to them through email and explain the concept I was going for. Personally, I prefer being in the studio with an artist every time we work. But when you're working with over 40 artists from all over and with different schedules, it's not always feasible. Yet, I made it happen and I'm really pleased with how everything came out.
How has Chicago influenced you musically? When you're in the studio creating beats, where do you draw inspiration from? What music do you draw your influence from these days?
My music inspiration comes from my mother. I was put onto good music early in my childhood as my mother would cook and clean around the house to old school music from Motown to Stax, to Classic Rock, and so on. I just soaked all that good music up like a sponge and you'll definitely hear those influences in the music I make. It may sound pretentious, but I hardly listen to new music. There are so many new artists and so much new music, I can't possibly keep up with my busy schedule. Sometimes a new artist will peak my interest, but for the most part…I'm still listening to music I came up on for inspiration. Now when it comes to my Chicago influences, that varies from Hip Hop artists like E.C. Illa, All Natural, Twista, Do or Die, Crucial Conflict, Psycho Drama, Da Brat, Common, Kanye West, & everything else in between. Then old Chicago blues and the whole house music movement…those have all helped shape me musically. But Chicago has always embraced Hip Hop culture. When I was younger, there were B-Boys breaking to Run DMC, Beastie Boys, & Public Enemy records and there were a lot of graffiti artists around too. I use to do some tagging myself. But all those influences from the Chicago Hip Hop scene at that particular time continue to influence my music.
Ah, tagging. I use to do graph art back in the day myself. A-Villa, where can the readers find you online?
I'm on the Twitter: @AVillaMusic I'm on Facebook: Adrian A-Villa Villagomez I'm new to Instagram but you can find me at: @AVillaMusic If you're looking for beats and production from me, you can inquire via avillabeats@gmail.com If you're interested in sending me your music for my label Villafied Music, please send it to VillafiedMusic@gmail.com
That's whats up! This is the time we would like to ask you if there is anyone you'd like to thank or shout out?
Thanks to all the people who support and enjoy my music. Thanks to my family and my loved ones for being supportive. Shout out to "Closed Sessions" and you all at "Get Your Buzz Up". "Carry On Tradition" drops on September 23rd via iTunes, CD, & vinyl. Peace!
A-Villa is the prime example of hard work and dedication. With only years under his production belt, he has managed to do what a lot of other seasoned producers have not been able to accomplish and that's construct hip hop classics such as "The Warrior, The Philosopher, & The Rebel". Make sure to purchase a copy of "Carry On Tradition" when it drops on September 23rd. We here at GYBU would like to thank A-Villa once again for taking part in our "Buzz'N" iNterview series. On that note, we'll catch you next time.
Interview conducted & written by: @blitzb_60505