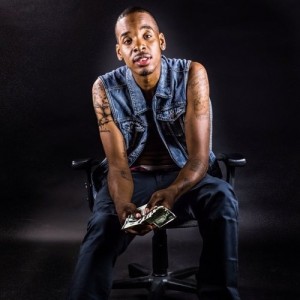 Get Your Buzz Up is back with our second "Buzz'N" iNterview for the month of January and it's with Wisconsin's hottest rising artist Tre Money. If you're not familiar with the name Tre Money, you better get in tune with it. Already covered on multiple sites such as djbooth.net, yoraps.com, kevinnottingham.com and on our site getyourbuzzup.com, Tre is serious about his music and career moves. Let's get to know some more about him right now.
Q: What's good Tre? Firstly, let me thank you for taking time out of your busy schedule to conduct this interview with you. Madison, Wisconsin is what you call home but you hail from Jackson, Mississippi. Coming from an area known best for Blues music, do you feel that living there and being exposed to that influence crosses over into your music?
A: Well growing up my granny would always play blues music and I would just listen and dance to it. Most of the music was like love songs and story telling so I feel like that's where I get that side of my music from.
Q: Who are some of your musical influences since were on the subject right now?
A: I really don't have any particular influences. However, I do enjoy music that's true. Artists that create genuine and honest songs. I just don't listen to rap, I listen to all types of music.
Q: What do you feel sets you apart from artists of this generation?
A: My delivery and my work ethic because you have a lot of people that can rap and that can sing and I can do both. I also tell the truth in each and every song. I never talk about what I haven't been through or am going through.
Q: You took part in our "GYBU Industry Experience" on February 11th, 2013 and took first place. Besides the dope prize package awarded to you, it catapulted you into the spotlight online and in Madison. How do you feel that has helped in building your career and what were the positives and negatives of winning the event?
A: It didn't really help my career but it did show me the ins and outs of music and that it is a business. Just took it as an stepping stone and a blessing.
Q: "Cash First" was your last project that you dropped this past November via datpiff.com. Please talk about the concept of the mixtape and list your top three songs from it.
A: That project was dedicated & named after my friend Jamal Spinks who went by the name Cash First. He passed away on January 1st, 2013. I wanted to dedicate it to him even though I don't like talking about money. I felt like I could do it for him and my fans to show them my versatility. However, I wasn't happy with the end result due to the fact it felt rushed but I look at it as a lesson learned.
Q: You're currently pushing your new single "Grind" pretty hard. Speak about the concept of the song and let the people know if this will be featured on your next project or if it's just a single.
A: The concept is to explain to everyone that I am doing everything on my own. Also, it's for those that don't have anyone there for them. Just know if you have faith in God and grind hard you can do whatever you put your mind to.
Q: You were recently named "Urban Buzz Factor Artist of the Month", congratulations homey. Your hard work and dedication is paying off in a major way. What was your reaction when you first caught wind of the news?
A: I thanked God for the blessing but with that being said, just know I am still not content. Being named artist of the month ensured that I can do more and I intend to.
Q: 2013 was a successful year for you Tre but there's talk that 2014 is going to be huge for you. Are you able to speak freely about what you have planned for this year?
A: Alot of promo and label meetings and I will also be dropping my EP titled "Honest" on July 5.
Q: For anyone looking to connect with you online, where exactly can they find you & your music?
A: You can hit up my webpage at http://www.officialtremoney.com/
Twitter:  https://twitter.com/TreMoney_
Facebook: https://www.facebook.com/RealTreMoney
Q: Lastly, is there anyone you'd like to give thanks to or shout out?
A:  God and all of my fans are who I want to shout out,  love yall.
Tre Money is an artist that is serious about his music & a man that is determined to achieve making his dreams a reality by accomplishing his set goals, definitely an artist to keep your eyes on for 2014. I'm Blitz for Get Your Buzz Up and we're out.
Written By: @blitzb_60505