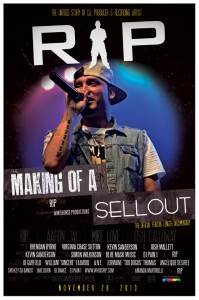 Driven, determined, strong willed, thick skinned and survivor– all
words used to describe many artists in the music industry. However,
these words have a face, the Waukegan, IL-based Pop/Hip-Hop artists
known as "RIP." RIP,a recording artist, producer and DJ was drawn to
the art of DJIng at a young age and very soon after rapping and
production followed.
RIP's documentary, "The Making of a Sellout," captures his life story,
his musical journey and overall struggle, in a poignant on-screen work
of art. Most striking is RIP's unwavering tenacity to follow his
musical dreams while focusing on his professional goals, learning and
adapting to an ever-changing industry along the way. From learning
HTML coding to starting his own record label, this documentary shows
RIP's growth as a career musician and so much more.
"The Making of a Sellout" is reminiscent of an impactful "Behind the
Music" special, complete with family and friend testimonies and
interviews, exclusive early childhood photos and videos, and a deep
look into the darker side of the RIP's personal life.
This documentary embodies the spirit of aspiring creative
professionals everywhere– their growth as artists, their unseen
struggles, loss, isolation even from loved ones and the journey
towards reaching a rarely-accomplished goal. "The Making of a Sellout"
is not only worth the watch for the story, but the mistakes and
successes of its main character can serve as blueprints to aspiring
artists everywhere.
Aaron "Uncanny" Phillips