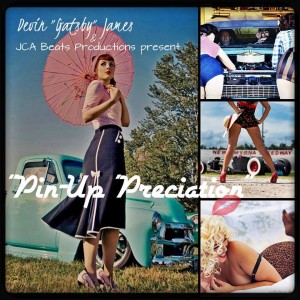 Portland, Oregon's Devin "Gatsby" James links up with Aurora, Illinois' JCA Beats Productions again to produce this Swing-Hop classic called "Pin-Up 'Preciation". For this run, Gatsby went the extra mile by asking Pin-Ups from all over the U.S. to contribute images for the project.
And when asked of such a favor…
The dolls politely obliged him by saying yes. The croon-rap pioneer's only response was, "What a better way to listen to swing-hop music, than watching a Photo-Lyricism Video of beautiful pin-up girls as well?"
Stay tuned for another joint venture from Gatsby and JCA Beats Productions titled "Just Ride", dropping in late November.