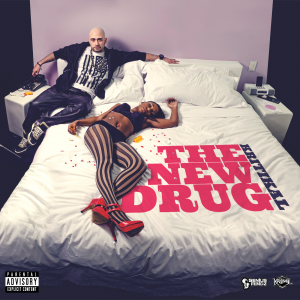 What's up Kritikal? Let everyone know where you are from and what you do.
I'm from the 5th borough, Staten Island, NY and I make great music.
When did you know you wanted to follow a career in music?
I started rapping around age 12, but I've always been involved in music since I was young, playing instruments in school and at home. But the more I focused on writing songs, the more I developed a passion for hip hop and decided to dedicate my life to it.
Who were your musical influences on the come up?
I listened to a lot of east coast rap growing up. Artists like Nas, Wu, BIG, Busta Rhymes, Mobb Deep and so on. But I also listened to music from Nirvana, Red Hot Chili Peppers & Al Green. My father would make me listen to Frank Sinatra, Tony Bennett & Jimmy Rosseli whenever we would go somewhere in his car.
You just released your newest offering 'The New Drug', what can fans expect to experience when listening?
Fans can expect to hear all facets of what I bring to the table. No matter who you are or what you do, you will find something on this project that you can relate to.
Your 1st single, Fade Away, off 'The New Drug' album, was licensed in the popular Racing game 'CSR Racing', how did that happen and how has it helped your career thus far?
The good people over at Natural Motion Games in the UK heard the single and were instantly fans. They felt that it was the perfect match for the trailer they were releasing to help promote the game.
This is not your first licensing gig either! How does licensing help an artist who is trying to gain worldwide awareness of a single?
Licensing, in my opinion, is essential. The audience you can reach on a television show, commercial or movie is so wide spread that its a no brainier. Plus you can make some pretty nice paper.
'Fade Away' was also nominated for Best Hip Hop Song at 2013 HHMA's, how does it feel to be recognized for your hard work and creative talents?
Being nominated for any award is always humbling. To be respected for the work you've dedicated your life to, is such a good feeling. There's nothing like it.
You will be on tour with DXC (Dunk Xchange) in months to come, what can fans expect to see when they attend the shows and see you perform?
Fans could expect to see energy. I give 100% of what I got in every performance. They will get to see an ARTIST doing what he loves!
Lets not forget about Kush and Kicks your clothing brand, when did you start that and where are you trying to take it?
Kush & Kicks started in May of 2012. It started out as an idea for a blog and soon turned into a clothing line. It's based on my 2 favorite things in life. Weed and sneakers. In a year we've already been able to accumulate a large following on social media, and have been able to garner attention from several mainstream hip hop artists. The goal is too become the number 1 brand in street wear and it's looking very possible.
Whats next in place for Kritikal?
Well I just finished shooting a video in Hawaii for "Party Hard", off of "TheNew Drug". I'm also getting ready to shoot a video for "Addicted", also off "The New Drug". Other than that it'll be hitting the road with DXC and recording new music.
Where can we find you online?
People can go straight to KRTNYC.com for anything and everything Kritikal. I also have a free app available on iPhone and Android. The link is available on KRTNYC.com. I can also be found on Twitter and Instagram @KRTNYC.
Any last shouts?
Shout to J Hatch & Premise of iStandard, shout to my team, Genius Mindz, and shout to everybody who supports what I do!!!