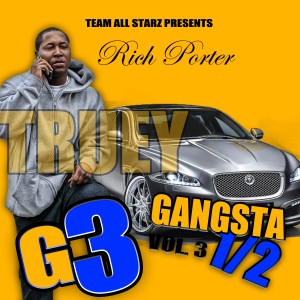 Beloit, Wisconsin's Rich Porter is no beginner to the music scene. With a dozen mixtapes under his belt and having had the opportunity to meet with A&R's from Sony, Epic and Columbia Records, Porter is stages ahead of other unsigned artists in the game. His latest serving, "G3 (Gangsta Vol 3 1/2)", clocks in at 17 tracks long and offers his own take on many major current hits and original production. Let's check "G3" out and break it down.
We start off with "TTYL", over a slick instrumental Rich drops street knowledge and gives insight to his life actions. "Stay Scheming Gmix" finds Beezy flowing over the Rick Ross/ French Montana hit. Chief Keef's "Love Sosa" track gets flipped to "Steve Urkel" and has Porter repping for purple syrup and purple smoke. On the EL featured track "TTG" the fellas spit hard bout the street life and hustling. On track 5, Rich tells "No Lie" over the 2 Chains & Drake smash. Next song is Bezzy's take on Pusha T's "Exodus 23:1" record. The title this rip is "Cruel Summer" and Porter depicts his younger days and coming up on the block.
On the Young G produced "2x", Rich provides an anthem for all the real hittas. "Understand Me Gmix" is another Chief Keef remake on which Porter claims he goes so hard he deserves a Grammy and that bosses work for him. He then goes into a record to let yall know he's "Bout That Life". On one of the mixtapes standout cuts "I'm Chillin", Beezy goes rapid fire over a crazy ass beat. "I Am 2 Much" is a braggadocious anthem. "Dope Money" is self explanatory, a track touching on the drug game.
"Fair Exchange" features Uno is another ode out to the block. "Live From The Wisco" finds ya boy going hawwire and reppin for his homestate of Wisconsin. "I'm Gone" strays away from Porter's typically street oriented content and deals with a relationship situation where Rich's girl isn't doing her job right. "My World" is a song that allows listeners to glance into the world of Porters and it's quite interesting to say the least. That cut and "G3″s last track, "Victory For Pain", are the other standout cuts. This one finds labelmate Tone Montana and has a mega dope beat that both rappers go hard over.
Other than the multiple uses of majorly released beats, this album is a certified hood hit. But remember this is a mixtape, so the use of those beats get a pass. "G3" is strictly for the g's and homies holding it down in the streets but with catchy hooks, other listeners can be drawn in to checking it out. Stream & download "G3 (Gangsta Vol 3 1/2)" below.