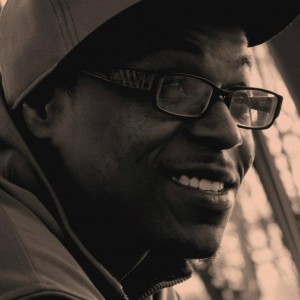 Just recently, emcee Sincere Life dropped his third and arguably best project to date, "Write Of Passage". Get Your Buzz Up caught up with the praised lyricist and had the chance to pick his brain a tad about the project, his thoughts on hip hop and his life growing up.
So Sincere, alot of people are citing that "Write Of Passage" is going down as a classic hip hop album, a work of art. I'd have to agree with them, this album turns its back on what the genre is currently dishing out as music and gets back to the core of hip hop. What was your aim and direction with this album?
Well first off I want to say I appreciate you and anybody else who feels like "Write Of Passage" is a classic. I definitely wanted to make a point with this EP and my aim besides wanting to be amongst the elite emcees was to get people prepared for what an album might sound like. I wanted to open up on this one even more than I did on my first two projects. I feel like that honesty is one of the main things missing in Hip-Hop these days. I also wanted to show my versatility from flowing & lyricism to hook writing & subject matter. I wanted to touch on every aspect of the emcee from storytelling, radio appeal, lyrical, relationships, reflecting on life, like I wanted a song to cover each topic while displaying my growth as an artist. And I've been getting a lot of good feedback and people have different songs as their favorites for various reasons so I think I accomplished that with this EP and when anyone tells me it's a classic it inspires me the most to make more music.
You released two projects prior to Passage, 2010's "Humble Beginnings" and 2011's "Dreams In My Notebook". Between Dreams and Passage, we hear and feel a changed emcee, a new found man. What occurred in your life and mind between those two projects?
A lot happened good and bad but it all affected me in some way musically. In 2012, I had the opportunity to open up for Talib Kweli and another show I opened up for Yelawolf. Both of which gave me a piece of the dream I'm chasing which only inspired me more. I also was asked to perform at the Memorial Union Terrace here in Madison which was a great show for me because it was a stage I always wanted to perform on so it was humbling that someone in that position felt I was good enough to grace it. All of those things as well as countless features and shows helped me be heard by a variety of different crowds and the feedback I got reassured me whenever I felt like quitting. There were a few times when I felt like it would be easier to just do that, going through relationship problems and dealing with matters of the heart and then I had to overcome a lot too, I lost my little cousin Kiante and that really threw me off my focus for a minute because it was so unexpected and he was someone who looked up to me and believed in me the most. He would always tell me I was his favorite rapper and that I was better than the rappers on TV. I wish I could let him know now how much that meant to me but I channel those emotions through song and used that loss as motivation. I think of him with every song I do and I feel like now I have to make it for him so he still plays a big part in my career.
"Three Kings" is simply amazing and your use of symbolism to explain the story in that record is a trademark most emcees do not exercise these days. With the state hip hop is currently in, did you feel this song was necessary to create?
I definitely feel like this track is needed in hip hop today and more like it. It's actually one of my favorite ones from the EP because it was a challenge for me to write. It started as an idea after hearing Rick Ross' "3 Kings". I wanted to do a track on that beat but in a way I knew no other rapper would think to. I had the concept of Money, Power & Respect being like kings but didn't think I could actually make a 16 bar metaphor out of each of them and make the verses all relate to tell a story with a lesson at the end. So while I was writing it and the song was coming together I was actually amazing myself and realized that this was just too good of a song to use on a beat that wasn't mine so that's how it came to be over the DLO production you hear today. I felt like this track was missing from the culture because it contains elements of a Hip-Hop song it seems is no longer celebrated. Using these 3 elements of life as entities and making the everyday reactions we have to them a metaphor to show how much we actually let it rule our lives showing that in turn one of these things can actually be your king. This song was needed for a few reasons not only the lesson at the end but I feel like it pushes my limits as an artist and pushes the envelope in Hip-Hop as well and that is something you don't see as much anymore but it's a necessity to keep the culture elevating.
For those not familiar with Sincere Life, you are from Chicago. With that being said, your style varies greatly from the traditional sound of that area; violent, gang driven, "drill" music. Why do you feel you went in a different direction than that majority? Does it have anything to do with your earlier musical influences growing up?
Honestly it just wasn't me I never really had to live that lifestyle so I couldn't really make music relating to that and Hip-Hop is all about being yourself so I couldn't lie about who I was. I address this a lot in my music though there's a line in 'Write Of Passage' where I say "I can't glorify moving a couple 100 packs" I mean I grew up there and I may have indulged but it never felt like something I needed to do. I think it was my Mom first and then my musical influences I mean not wanting to let her down and make her feel like her hard work was in vain kind of kept me off the streets and listening to artist like Nas, Talib Kweli, Mos Def, Eminem, and the more lyrical artists who kept displaying that being yourself and telling your story was what made an emcee and that's the type of artist I wanted to be. So a combination of my upbringing and my musical influences and also wanting to stand out from the norm and what most rappers seem to follow when they make music all kind of lead me in this direction musically.
Speaking of growing up, your mother and yourself experienced an unfortunate and traumatic event back in 1996, your father passed in a car accident. You've stated that going thru that turbulent time, hip hop helped you overcome the pain you were experiencing. Do you feel that is why you're so passionate in your music, because of how music helped you thru that?
Yeah I think that's always gonna play a big part in my passion for music. I never experienced loss like that before and to be 11 years old dealing with that it could have had a negative effect on me, but I can remember writing lyrics to my favorite songs out as I would listen to certain albums like 2Pac's "Me Against The World" and my cousin David who I looked up to a lot also was a very conscious emcee. I'd like to believe music was always a part of my life but when I had to go through that pain I really learned to channel it using my music it became like a therapy and a relief to express how I was feeling about it all. I know he can never hear a verse from me but I still sometimes find myself writing certain lines as if I'm speaking to him. I know he's still with me in a sense and I look at it like I lost him so early because God must have known I would need an angel later on in life to watch over me. So while I won't have the satisfaction of hearing him tell me, I feel like he wouldn't be disappointed in everything I've done so far and what I plan to do in the future with my music.
Thanks for sharing that with us Sincere. You're father would be proud of the man you've became. Let's talk a little about ILL-NOIS Nation. Let the people know exactly what that means and what it's all about.
ILL-NOIS NATION is my family it started as a few friends I look at like brothers having the passion and talent to use music to influence a way of thinking different from what was constantly celebrated in Hip-Hop. It stands for Intelligent Lyrical Legends Neglecting Oppression and Inspiring Society and it's basically a definition of what we try to do with our music and our influence overall however big or small it may be. When people tell me that my music inspires them or they can relate to what I went through because they went through something similar it reminds me that there are real people out there who are missing real music they can relate to and that's whats ILL-NOIS NATION provides.
Are you currently planning or working on any other projects, for example, like a group album or guest features on other artists' projects?
Yeah a lot of projects actually I have a tight knit circle of emcees as my fam being Street Fire here in Madison and right now in Orlando though we grew up together in Chicago, Lo Lyfe Productionz. Between these camps I'm always busy with features but its music I'm glad to be a part of. With Street Fire I'm definitely gonna have a verse or two on M-City's project 'City Lights', I got a dope track with A Profit for his project 'Man On fire' and there's another project we're collectively working on too that's gonna be crazy. Nichi from Lo Lyfe who also raps and directs videos has an EP coming out that I'm on and I'm about to do a lot of work with Stacks too also with Lo Lyfe and I'm on Young Ali's new project too. I got some work coming with Carter too another dope emcee coming from out of Madison he got a unique style lyrically and I like what we come up with in the studio. Hopefully we can get a lot of Burn $ampson beats for that project he's a very dope producer I recently became a fan of also here in Madison. I got a few more projects I can't really speak on right now but I can say that the album is done as far as I'm concerned. Not saying nothing will change but it's been done for a while now.
Do you have any show dates lined up and if so, when and where?
I'm actually about to go on a 10 day tour with Michael Medall and open up for him. It's called the Inspire tour 2013 and we are gonna be gone from May 10th to the 20th touching down throughout Wisconsin and I know we have a show in Chicago and a few more spots in Illinois from there we go to the east coast to perform in New York & Boston. I've never been to the New York let alone done a tour of any kind so I'm anxious to see what new opportunities this may open up and just to have the experience too. I'm gonna be back at the Memorial Union Terrace this summer too that's another show I'm looking forward too. And hopefully more local shows and show in Chicago as well just to broaden the fan base I have here in the Midwest.
Where all can we find you on the internet?
They can find me online on Facebook/sincerelifemusic
Twitter @SincereLife7
I'm on soundcloud.com/sincerelife7 and you can find all the mixtapes at www.datpiff.com, just search Sincere Life. Follow me on Instagram  @SincereLife, on Youtube at youtube.com/sincerelife and of course check out my Bandcamp page at Sincerelife7.bandcamp.com to hear or buy the new EP "Write Of Passage"
Last but not least, is there anyone you would like to give a shout out too or special thanks?
First I have to shout out my Mom and my family for believing in me from day 1 I remember when I first told her I wanted to be a rapper she supported me to the fullest from then to now and I have to let her know I appreciate that. My team ILL-NOIS, my LO LYFE fam Nichi, Young Ali, Stacks, Da Artist, and Maily Deiyon, and Street Fire Ent. A Profit, M-City, Jordon The Hustler, J-Real, SB, KY, & Marc Ant. My cousin Kiing Del, My brother Redd Eyez, Foxx 1, and JR. S/O to B-Side records where you can purchase a hard copy of Write OF Passage and S/O to Shah aka Mr. GetYourBuzzUp for the insight and helping me with the release of this project. S/O to all the producers I worked with on this project especially DLO the Iceman and to M-City, Michael Medall, and Flame the Ruler too for contributing verses to Write Of Passage and Eric D. who handled the singing vocals for a few tracks. S/O to you B for this interview it was one of my favorite ones to do so far. S/O to Chicago for making me who I am and S/O to the whole city of Madison especially the artists here we gotta support each other before we ask anybody else too.
Well that wraps up or "Buzz'N" iNterview with Sincere Life. Make sure to support true hip hop and Sincere by heading over to his Bandcamp page to stream and purchase "Write Of Passage" today for only $5 at the following link: http://sincerelife7.bandcamp.com/album/write-of-passage-ep
Written By: @blitzb_60505