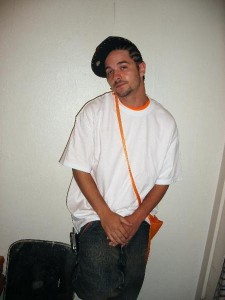 It all started with a young man and a new found passion… The young man was M.I.C. and the passion was Rapping and creating Hip Hop. Over the years he practiced in secret without anyone knowing. As he grew better with his writing, he gained confidence and began freestyling at the many social gatherings he frequented. Low and behold people we're blown away by the lyrical prowess. Over the years he began to build a squad diverse enough to accomplish anything. With members like Jay Tee, Jus Biznez, Tru, King Aka SuperMan, BU, And More. Even merged with another diverse group by the name of, Illest Noise. Illest Noise, ran by the mastermind Deco The Meta4ist, is an eclectic telling of raw hip hop, stoner antics, and a dream universe called Kush Reefa G.
Deco, while also making music at a young age, also began building a squad of diversity and imagination. While the reefa smoke from last night is still settling, Deco is always on the hunt for the opportunity to Rap for an audience or find real hip hop. He has established artist's such as K.C., Big Sal, Dj Supa(Intergalactic Sound Engineer), Ethyx, And "Who" just to name a few.
Since the merger, great music has been made and more. The sky is the limit with a lyrical army of this magnitude. Hard work and perseverance with keep this monster roaring.
Illest Noise Is The Mob – Low Budget's Squad
Here's "Massacre Madness" from off of Rockford Prophet's mixtape, "Hip Hop For Dummies".