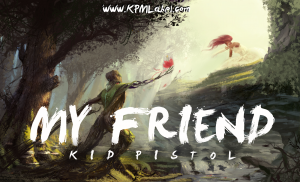 In preparation of releasing their collaboration album, "DYAD" -which is one half Noraa Ish and one half Kid Pistol- KP decides to drop his next single, "My Friend", two days before the album will be available as a free download @ www.kpmlabel.com on March 1st. GYBU was blessed with a description of "My Friend" from none other than Kid himself! Check it out:
This song was coming at a very emotional time in my life, actually just about a week ago – personal things that led me to write this song. This song wasn't even created until about an hour before our very last recording session before wrapping up the DYAD album. I started writing in my car and I couldn't stop. I had melodies in my head, I had a vision where I wanted to go with the story, I had everything, but I was just trying to finish it so I could go record it that same day. This was the first song I recorded when I went into the studio that day and everybody was trippin' on it after it was done. I knew instantly that I wanted to release it as the single. I really feel that people are going to have a very deep attachment to this song like I feel myself.
Listen to "My Friend" now and make sure to download "DYAD" March 1st.