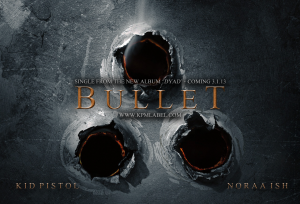 Portland, Oregon recording artists Kid Pistol & Noraa Ish are set to drop their brand new project, "DYAD" on 3-1-13 via their website, www.kpmlabel.com. They're offering the album for free in celebration of many things: 'Karma', a very successful album released 0n 6-8-2012, 2012 Artists of the Year nomination, 'Project H³' and it's success, KPM Records' official launch and as a thank you to the fans who have brought them to this point. The album is  one part Kid Pistol / one part Noraa Ish; two solo projects combined into one entity.
And in anticipation of  "DYAD", the fellas drop the lead off single "Bullet". GYBU was blessed with this message from Kid Pistol himself speaking on the song, check it out:
In short, the 'Bullet' single is largely based on the flaws of the human race. The pain, death, regret, hurt, etc. that we cause ourselves and others. The verses show you the dark side, the gritty details and some short examples, then the chorus brings you back and reminds you that you can repair yourself and your circumstances, no matter the past, at any time with willpower. 'Don't let it slip away, we were different yesterday, be a bullet from the gun, flying aimless towards the sun.'
Be sure to download "DYAD" when it's available on March 1st. If "Bullet" is any indication of what to expect, fans will be thrilled with the finished product.