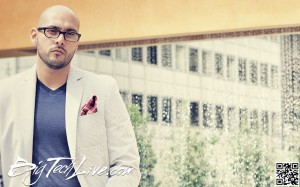 It is a rare that a Hip Hop song can bring tears to your eyes. Tupac's classic "Dear Momma" was one of those songs that got a lot of thugs teary eyed. And now comes a song written by Texas Rapper Big Tech that is sure to get you a little choked up. The song is entitled "Grandma's song" and it's a profoundly nostalgic and sentimental track. In the song, Big Tech raps about how Grandma is a symbol of hope, strength and wisdom. The centerpiece of the track revolves around a grandmother's unorthodox savings methods and a little boy who doesn't comprehend her techniques until he becomes a man.
"Grandma's Song" is inspiring and enthralling. It's a piece that many can relate to. It's an ode to all those grandmothers who have been the rock and foundation for their families and who raised their grandchildren to be responsible adults. The track itself is very commercial and it features DJ Corbett on the hook. The chorus states to "Keep Your Eyes On Tomorrow."
Big Tech's cadence, delivery and flow on the song are all top notch. "Grandma's Song" is the first single off of Big Tech's critically acclaimed EP "It Was All A Dream," which is available for sale on Itunes. We give the song a rating of 9 out of 10. "Grandma's Song" has classic elements. Make sure you visit his website www.BigTechLive.com.