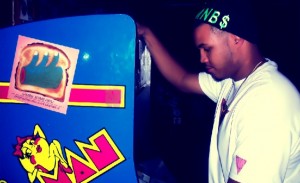 K-Von is believed to be a new force in the music industry. With creative punch lines and touchy song subjects that doesn't seem to be brought up in today's hip-hop is what makes K-Von unique at the young age of 19 (January 6th, 1994) He started making music in a basement back in 2006. However, he never really took it seriously until his 8th grade year in school. He did his first performance opening for a former local celebrity in the Cleveland area. After that, K-Von took time off from performing to get his craft and stage presence together.
In 2010, at the age of 15, K-Von released his first studio album, titled "On My Grown Man" It didn't really do all that well on the internet though. This didn't discourage K-Von as he released his second project, "Finally 18" on January 6th, 2012. That project had a few thousand listens and had 1,500 copies distributed through Cleveland, Ohio. The project gained him exposure from different universities to get booked to open for artists like; Kendrick Lamar, Elle Varner, and MGK. It's also gained him exposure for the Obama campaign. He was also booked to open up for Jadakiss at the Rock & Roll Hall of Fame in downtown Cleveland, Ohio.
K-Von also is a subject in some of the schools around the country. With songs and music videos like, "I Will Achieve" and "Too Quick" K-Von is relatable to students and grabs their attention naturally. Which is why, teachers have no problem playing his videos in front of their students. He's an all-around artist that can make music for any scene. Whether it be school, church, club, etc… His new project, "Just A Thought" is scheduled to release April 1st, 2013.
Here's his newest single "New Generation" featuring Ray Jr. K-Von speaks about his generation aka the new generation. Dope song, check it out…..