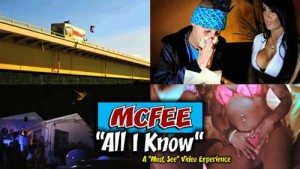 McFee's pursuit of a career in rap began after undergoing seven surgeries, a compression fracture in his neck and breaking his back on two separate occasions. The injuries began during his teenage years while pursuing his passion of freeskiing and stunting which he used as an outlet to battle problems at home, at school and with drugs. At the age of seventeen his innovative stunts helped him break into the spotlight of the extreme sports industry, landing him in magazines internationally, including Sports Illustrated. Multiple injuries later McFee realized an even deeper passion in music. After a back-breaking decision (literally), he left the world of extreme sports and began his musical journey. The only problem was, he had no idea what he was doing.
Eventually his professional athlete endorsements ran out and things took a turn for the worse, McFee found himself back in the world that skiing and stunting once saved him from – drugs. After years of bad decisions and troubles he reached his breaking point after being robbed of $8,000 worth of film equipment, drugs and his rhyme book. In the words of McFee himself, "That extreme low point was an incredible blessing that gave me the strength to call my mom and confess everything wrong that my life had become. After my confession she only said one thing… I love you. At that moment I cried and promised her I would turn my life around. I've kept my promise ever since and continue to fight for my dreams to make her & my father proud".
One thing that definitely separates McFee from the pack is the fact he produces most of his projects himself, as well as directs and edits his own videos, many of which feature him performing his own extreme sports stunts that he has designed.
Hate him or love him, no one can deny McFee's hunger, innovation and courage. He has no "Plan B". This is it. So be prepared to see things you've never seen before and hear things you've never heard before like his video for "All I Know".