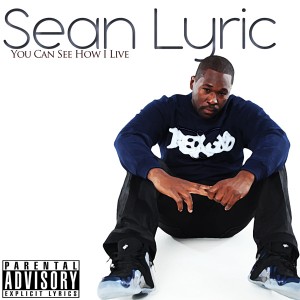 The word swag is very loosely thrown around in this day and age, especially amongst the realm of Hip-Hop. Very rarely is there a charismatic emcee that exudes swag so much that you can't help but gravitate to the persona, the flows, the lyrics, and the look. Forget swag. Charisma is what comes with Sean Lyric.
Born in Port Au Prince, Haiti; raised in Danbury, CT, and built by NY, Sean Lyric has a character built on pure diversity. However, his New York up bringing, has taken over, giving him the attitude of a confident winner. Isn't New York corruptly addictive? Don't you love it? Four years in New York, and fairly new to the music industry, his new home was built. However, he grew in the studios, on the stages, and on the radio, as Sean Lyric became a valid voice amongst the listeners.
Sean Lyric is primed, and ready for his opportunity to run with his blend of Hip-Hop, R&B, and Rock. With followers steadily increasing, the buzz is beginning to build. The singles, 'Trapped (Stuck In Relay)' (Feat. Sammie), 'My Time (Feat. Joell Ortiz'), and 'You Can See How I Live' have pushed his body of work to the listeners and have created a platform with nothing but potential ahead.
Sean Lyric recently released his new single "You Can See How I Live" which is available on iTunes. The track is up beat and sensual, creating a feel good mood for the audience. A complimentary ode to women with a dash of street appeal for the men, it's sure to get you moving.