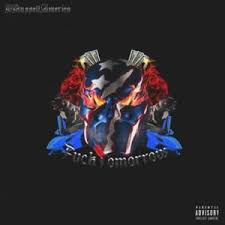 The red, white and blue masked Dallas trap artist DRussellAmerica continues hitting bull's-eyes with the debut of his street album and a flick to it's lead single, "Reminiscing"
Firstly, the Texan rapper is able to immerse listeners into his songs by the use of hypnotizing rhymes and mystifying melodies. His music is a blend of modern rap style but stays true to the southern hustler mentality. This is evident on selections such as "Workaholic" and "All Billz Paid" and "Mo Money".
If DRussellAmerica had to sum up the theme of the whole project, the breakout single "Reminiscing" would be the prime selection to do so with. He allows his arrogant side to roam free among the instrumental while also provoking bursts of high octane energy to your ear lobes. The stand out recording also received a visual treatment for it last October via WSHH and instantly was propelled into the national spotlight.
The video finds Russell in his signature face mask alongside a bandanna clad bad boo and together, they run the trap and streets rabid. We also find D whipping around the city in a neon three wheeler while experiencing flashbacks to his younger days that forced him to grow quickly and strip his innocence away.
"Fuck Tomorrow" is continuously racking up plays on Spotify and the video has surpassed 70,ooo plays on YouTube to date. Tune into the album below and keep an eye on this fast rising southern artist this year, there's a ton more to come.