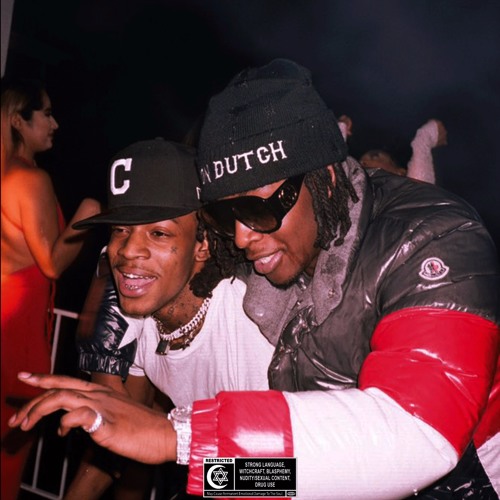 Thouxanbanfauni and UnoTheActivist have just released their second single "Pay Me" off of their upcoming collaborative album For Christ Sake 2 dropping Feb 22.
For Christ Sake 2 follows up their first collab tape FCS which ignited the SoundCloud generation with tracks like "Parkin' Lot Pimpin" in 2015. Their current project brings back that raw chemistry but in a more polished fashion as both Uno and Fauni have evolved and developed as artists. FCS2 is as powerful as the first with dark ghoulish production and heavy hitting bars to match.
For longtime fans of Uno and Fauni it's exciting to see them make a full project again! Uno has been working with artists like Travis Barker, Rich The Kid, and Trippie Redd, while Fauni has been collaborating with artists like Denzel Curry, Famous Dex, Lucki, and Desiigner.
Thouxanbanfauni was born in Chattanooga, Tennessee but moved to Atlanta for high school where he became involved in the same hip-hop scene that birthed many of today's stars. His single "Who You Testin?" became a hit on Soundcloud helping bring him to the current spotlight. After that, he dropped his first solo mixtape Heavy Weight Champ that established him as a creative force to be reckoned with. Fauni is a pioneer in breaking the barrier between underground hip-hop and the mainstream. He was a top contender for the 2017 XXL Freshman list and has been the talk of many blogs and forums fo rthe last few years.
He has been impressively growing his fan base without the support of a major label. Thouxanbanfauni is the ideal mix of veteran Soundcloud rapper and new wave Atlanta rap star. Fauni is absolutely a Soundcloud OG with songs like "Rihanna's Wrist" that have over a million views, but he also came to be in the same Atlanta scene as Migos and UnoTheActivist. Thouxan's music bridges the underground with the mainstream, and as a result and the sound he creates is always ahead of the curve.
Signed to Republic Records, Atlanta-native UnoTheActivist emerged as one of the hottest rappers of 2017, as his celebrated style and aesthetic helped usher Atlanta's trap sound to the mainstream. In September 2017, UnoTheActivist's album Live.Shyne.Die received over 2 million Soundcloud streams within the first 48 hours of the release, while all 16 songs took a spot on Apple Music's Top 50, and the album stood on iTunes' Top 20 Hip-Hop/Rap Albums charts for weeks. UnoTheActivist released Limbus Part 1 (EP) in July 2018, and will be releasing his highly anticipated Limbus Part 2 on December 7, 2018. So far in 2018, UnoTheActivist was featured on Fk1st's compilation
EPs Good Gas (Vol. 1) and Good Gas (Vol. 2), as well as on songs with Travis Barker, Warhol SS, Maxo Kream, Wifiisfuneral, and KCamp amongst others. In March 2018, Complex recognized his rising star, naming him as one of their "Most Underrated Rappers Right Now."