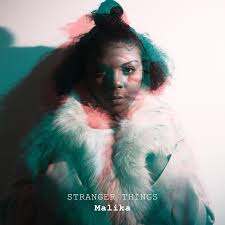 Ever had the feeling you're sleeping next to a stranger? MALIKA knows exactly how you feel, and she is telling us all about it in her brand new song "Stranger Things". Sharing the name of the popular TV series and just as infectious, London singer/songwriter MALIKA brought 2018 to an emotional close with this offering.
Since the release of her debut EP 'Songs About C,' MALIKA has spent much of 2018 performing around the UK at festivals including, Standon Calling, Reading and Leeds, and on various online platforms such as, Redbull Music and Colors Berlin.
Named on The Independents 2018 Ones To Watch List, and a recipient of the PRS Momentum Fund, MALIKA's talents have been in high demand this year. With her soulful vocals featuring on releases by Nathan Dawe (Atlantic) and Punctual (RCA) and her song writing abilities seeing her writing for artists, such as, Benny Benassi, Mabel and Michael Calfan, whilst putting the finishing touches to her follow up EP 'Tension' due for release early 2019, which also features her new single.
Inspired by authentic R&B, 'STRANGER THINGS' opens with an emotional piano solo, which pulls you directly into MALIKA's world. Produced by newcomer Jae Eaux, 'STRANGER THINGS' is filled with subtle choir backing vocals, and strong percussion elements in which MALIKA reveals her fears that she and her beau have grown so far apart he's no longer the man she loves, but simply just a stranger. Stronger than ever, MALIKA returns with a sense of vulnerability and maturity on 'Stranger Things' that the world has never heard from her before, a relatable
theme which is echoed continuously throughout her upcoming EP.
Inspired not only by icons such as Mary J Blige and Whitney Huston, MALIKA's love for new age R&B can be felt on this new project and shines through her effortlessly alluring vocal, proving she is undoubtedly one of the leading ladies of progressive R&B and makes 'Stranger Things' a must listen to song during cuffing season and well into the