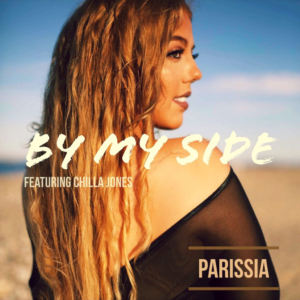 Intimate and laid back, Parissia's "By My Side" single features smooth vocals paired with story-telling bars, transporting you to a night of jazzy seduction. Produced by The Arcitype and featuring renowned battle rapper, Chilla Jones, the song serves as a follow-up to her collaborative Summer single, "Summer Love". Conveniently releasing on the last day of summer, "By My Side" follows up the story in "Summer Love" to say that their romance was more than just a Summer fling, but it should instead continue throughout the year. The single is currently available on all digital outlets including iTunes, Spotify, Soundcloud, Tidal, Google Play, Amazon and more.
A self-proclaimed '90's revivalist, Boston singer-songwriter, rapper and record producer Parissia fuses popular techniques from the golden era with a slight futuristic edge and her own personal spin. Pushing the boundaries of traditional Hip Hop, Parissia combines R&B, Trapsoul, Dance/Electronic, and Rock to create an original eclectic sound that highlights her from the pack. Influenced by the likes of Timbaland, Missy Elliott, Aaliyah, and Sade, (to name a few), it's not surprising that she is one to go against the grain of musical normalcy.
With the release off her latest EP, "The Blue" (which features performances from Ryan Kilgore, saxophone player for the legendary Stevie Wonder, and Lance Fury, trumpet player for Janelle Monae), Parissia has gained notable attention on the Boston scene, opening for Hip Hop legends Slum Village, Guilty Simpson, Black Milk and Nappy Roots.