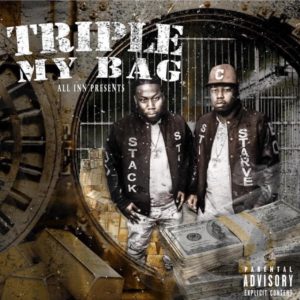 With outstanding lyrical grace and a street edge like never before, Cleveland Rap duo All Inn steps on the scene and steals the show with their debut EP, "Triple My Bag".
Comprised of blood brothers Mark Too Sharp and Big Bo, All Inn is revolutionizing the Ohio independent music scene; reestablishing the state as one to watch for multifaceted, emerging talent. Despite Triple My Bag being their debut project, All Inn shines on every track, spitting street alliterations and trap metaphors like seasoned emcees.
Colorful features from Lil Boosie, Kidd Kidd, and Ray Jr. compliment the pair's creative style and meticulous flow; adding depth to an already eclectic, street masterpiece.
Eight tracks of hood delight, mixed with lyrical candor and Cleveland flair, "Triple My Bag" is delivered with an intense boldness that leaves listeners wondering where All Inn has been all of their lives and what's next for this musical band of brothers. Listen to the EP below.