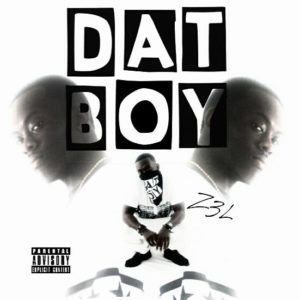 GYBU has been following Jackson, Tennessee artist DaTBoYZ3L since we caught wind of his collab single featuring Calvin Ross, "Don't Be Afraid", in late 2015. Since then, he's been hard at work constructing "Datboy", his 9 track EP effort. The project features the aforementioned Ross, 2j, M.I.N.D., CA$H and was exclusively produced by sought after producer, Let That Boy Cook. With the release, GYBU sat down with the album and went track by track, listening several times to construct the following review. Join us as we deconstruct DaTBoYZ3L's work of art.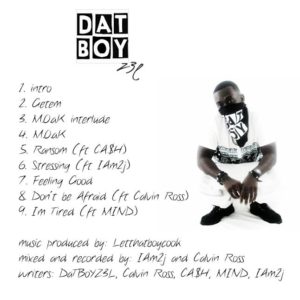 "Intro" – To kick the album off, Z3L provides an introduction where we find him penning lyrics to "Get Em", the lead off single from the EP. To add to the details, a pencil writing sound effect is used by the Jackson native to add greater detail.
"Get Em" – Combining a commercial approach and Hip Hop verbiage, DaTBoyZ3L flows seamlessly between crisp drums & layered synths while providing the perfect motivational record. The video also adds depth to the single, as we witness Datboy using his actual blood relatives thru the visual. Talk about keeping it in the family, I love that concept.
"M.O.a.K. Interlude" & "M.O.a.K." – This happens to be my favorite cut from "Datboy". I love eerie and haunting piano keys. Let That Boy Cook did his thing on the production end here. We're used to hearing Z3L drop radio friendly or self-conscious lyrics. With "M.O.a.K.", we catch a great glimpse at what he can do from a topical perspective. Combining both the intro and song itself, we are treated to a fisticuffs between two sides of Z3L's mindset, a must listen presentation.
"Ransom" ft CA$H – The third song off the EP to garner a video, "Ransom" is a superb street-based single featuring fellow partner-in-crime, CA$H. As with "M.O.a.K.", Let That Boy Cook whips up a banger full of organs, sound effects and thundering 808 bass. If you haven't picked up on it yet, Datboy can really carry a harmony, as heard on this particular chorus ensemble. On a mission to get paid, both fellas do a fine job of explaining their hunger over the instrumental.
"Stressing" ft 2j – Featuring 2j, "Stressing" is a song everyone can relate to. Backing vocals help fully harmonize Z3L's hook and parts of his verses. Besides the Calvin Ross featured "Don't Be Afraid", this single is the strongest commercial offering found on "Datboy". As with previous songs, we find the Jackson artist speaking about life, coping with pain while forced to make pivotal choices. Though the song title is "Stressing", the song gives off a soothing feeling. I would love to see this get picked up by radio.
"Feeling Good" – A club based single, DaTBoYZ3L utilizes simple melodies over Let That Boy Cook's production to birth a party fueled single perfect for getting the night or weekend started.
"Don't Be Afraid" ft Calvin Ross – Calvin Ross arguably is the standout R&B artist out of the Jackson, Tennessee area. Datboy and the vocalist team together for a little something smooth for the ladies. The hook alone will have the women catching the feels. Top it off with some slick talk from Z3L and you have the perfect formula for a late night rendezvous.
"I'm Tired" ft M.I.N.D. – With the current state of affairs transpiring between African-Americans and law enforcement in particular, the Tennessee rhymer links with M.I.N.D. to bring some consciousness to the masses. This was the second single from "Datboy" to receive a visual treatment from SoLoVisualz, Z3L's go-to videographer. The pair spits solid bars sure to win over even the hardest of Hip Hop fans.
Thru the duration of the album, I get the sense that there are two different mentalities being offered on the album. One is an educated and driven young man with his sights set on accomplishing goals, making his family proud. The other is the street-smart Jackson hustler that has managed to avoid the pitfalls of that type of life. Listening deeply, it's as though Z3L is, or at least at the time was, battling between the two lifestyles. It's obvious what choice he ended up going with.
"Datboy" has a combination of street, radio and female friendly records which shows his versatility. Both Let That Boy Cook and Z3L make a great duo, more so that I look forward to hearing another project from them in the future. My standout songs were "M.O.a.K", "Ransom" and "Stressing". "Datboy" can be streamed via Spotify below and purchased via Amazon at the following link. [Buy Here]