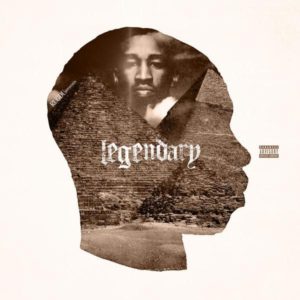 The word "Legendary" is defined as being remarkable enough to be famous or very well known. That is exactly the case with rising Philly artist Kir and his latest musical offering by the same name. The East Coast native combines nineteen songs in total with guest features from Nasty Na, City Rominiecki, Deviose, Farees and a few others. The mixtape also bolsters his hit single, Juice", which is currently faring quite well on Youtube. GYBU recently carried out a BuzzN iNterview segment with the Philly upstart (click here) and was moved enough by the project to revisit a few of our favorite cuts in the following review piece for "Legendary".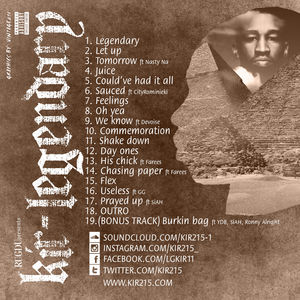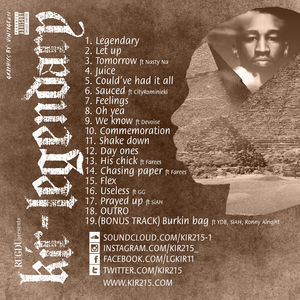 "Legendary" – Besides being the title track, this intro cut sets the bar for the overall vibe of the mixtape. A segment from Sylvester Stallone's "Rocky" character opens the song and builds up the warrior theme behind the production. The instrumental plays out like a movie soundtrack, filled with an assortment of choirs, church bells and rapid fire drum programming. For those unfamiliar to Kir's career, this song helps sum up the years he's spent grinding the indie scene, establishing himself both on the scene and online. If you do anything, make sure to check this song out.
"Juice" – I couldn't do a review without mentioning this one. The single was dope enough but with the accompanying video to back it, this was a one-two knockout punch. Kir is able to sum up life within the Philly streets within a four minute visual. With an extremely catchy chorus and non-stock sample add-ins, it's no wonder why the video is nearing the 15k mark in views. Check it out below:
"Commemoration" – This is another high powered presentation full of cinematic sounds. I get the feeling of "The Godfather" and other mafia-based movies with that crazy sample flip. The song serves as a memorial to the days coming up and the events that transpired within that time frame. Those that came up similar circumstances will find this being an anthem record that will throw a battery in your back when feeling down.
"Shakedown" – Kir is best known for making street friendly music. Since he first stepped onto the scene, he's been on a mission to perfect this format. He's now got it figured out to a T and "Shakedown" is a prime example. On the first few listens, I catch recollections of Desiigner's "Panda" song. The beat, overdubs and chorus setup/effects have similarities but with Kir's verses, he achieves separation between the two songs.
"Day Ones" – Soon as this came on for the first time, I immediately thought of "Lil Wayne's "Mirror" single featuring Bruno Mars. Not sure if both songs used the same sample or if a "Mirror" sample was flipped for this but I was immediately drawn into this track from the jump. Kir has a unique aura surrounding him. His ability to project rhymes with such strength and conviction automatically catches your attention. The difference in this top pick is the radio friendly, vocal hook and the idea behind the song. The rapper revisits his past and offers up a glimpse into his personal life and drops gems to listeners on keeping your closest ones in your best interest.
Kir makes catchy street music full of high energy lyricism. However, he does have club singles and songs tailored towards the ladies. If that is your forte, listen to "His Chick" and "Prayed Up". With nineteen songs to choose from, listeners are sure to find a few favorites to add to their playlist. "Legendary" is now available for streaming and free download via Datpiff, enjoy.