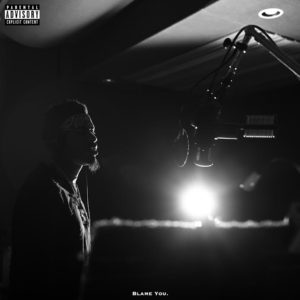 Get to know Brooklyn's Roc America thru his latest release effort, "Blame You". The emotionally driven EP project contains six tracks in total and showcases Roc's songwriting capabilities. "Blame You" is based around bitter break-ups and tainted love but done so in a highly tasteful fashion. Production is almost entirely self-handled, besides "Eleven Eleven" and "Worthy". The New Yorker's sound falls along the lines of Drake and The Weeknd here, due in part to it's next gen R&B approach. However, where Roc sets his music apart from the rest is in his ability to vocalize these emotions while still servicing dance friendly singles. GYBU was digging the release so we decided to visit a few of our favorite songs in the following EP review.
"The Point" – This song starts off "Blame You" and instantly became a favorite of mine. The production really sets the tone here. Multiple choral layers, mellow Jazz horns and a thick bassline are illustrated in the instrumental, which seems to set a spark into Roc's songwriting. He doesn't use a typical song set up of verse then chorus x 3 here, which makes it even more unique. Although Roc appears hurt in the song, he seems to come to the realization that the women he was involved with doesn't truly understand what love is really all about in the first place. It's a coming to terms record where the artist has begin seeking closure.
"86'd" – In the opening paragraph, I made a Drake/The Weeknd comparison and this was the song that led up to it. It has that new age, edgy sound to it. It's the same sound that has made the aforementioned artists so popular. I absolutely love the sampling used here, it gives it a very soulful Hip Hop feeling. For those unfamiliar to the definition of 86, it's a slang term used for being disposed of completely or when something has ran out. For this single, Roc uses the terminology to express his distaste in his love interest. He's given so much and received so little back that he has reached a point beyond being fed up. Ultimately leading up to him walking away from the relationship.
"Taught Me" – Just like "86", I really enjoyed the soundscapes sampled on this song. The sweeping bass line helps set depth to the production end of things. The string plucks give it a West Coast vibe. I could hear a remix to this featuring a major Rap artist in the near future. "Taught Me" sums up the entire EP. In the previous songs, we found Roc battling emotions and searching for closure. On this particular tune, it sounds like he's began to overcome those feelings and is ready to turn the page to the next chapter in life.
Overall, "Blame You" is an album you can play from start to finish. Roc does a splendid job of offering up a vast array of song selections that range from Soul, Reggae, R&B and Pop. All the while, the Brooklyn vocalist pieces these songs together into a complete work of art. With albums like this, Roc America has a bright future ahead of himself. Listen to the full EP below and if you're digging his music, know he plans on dropping another EP effort this Christmas Eve titled "God Of Love".