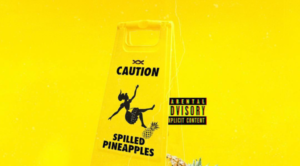 New Jersey's pineappleCITI urges listeners to take caution after pressing play on her nine track album, "Spilled Pineapples". The project carries features from Fourtee, Branden Jerrel and Dougie F and incorporates witty punchlines, braggadocios lyricism and melodically delivered vocals. We really enjoyed the body of work so GYBU decided to write up a review to speak about a few of our favorite cuts from "Spilled Pineapples", found below.
"Rose Colored" – The first song found on the project is spewing with those catchy punchlines we mentioned in the review intro. Lines like "Booby Schmurda with the bars/ like a nigga caught a charge" and a rapid delivery that would have most artists gasping for breath perfectly display just why CITI should be viewed as a solid contender. The piano plucks and heavy trap bass are a perfect fit for her demanding voice. This approach is heard on other records and this serves as a good example of what to expect for the course of the production.
"After Work (Song For You)" – This song was one I wasn't quite expecting to hear from CITI. Taking a direct 180 from songs like "Rose Colored", she puts her singing abilities to the test and passes with a straight A. This production is very subtle and when the chorus kicks in, you'll immediately think of R&B. This is the style of song tailored for the ladies, something to set the mood. Who hasn't had a long day at work before? To get thru the day, you fantasize about meeting up with bae after getting off. I was really impressed with this, CITI can really carry a melody. Aside from the smash hit #Pepsi, "After Work" gives off a strong commercial appeal, shouldn't be long until it is picked up by radio.
"Bigger Ego" – Of all the songs found on the album, "Bigger Ego" is the ideal song that showcases what CITI is best known for, one hell of a delivery. As the beat changes, she effortlessly switches up flows to match the sound. The instrumental is a darker one, something that illustrates the new sound of Jersey. Based off this one song alone, there's no question CITI has one hell of an ego, a sure hit among the streets.
"Spilled Pineapples" is a release geared towards trappers and in some instances, for the females. However, CITI does present a tough flow and well constructed wordplay that may find some of the biggest Hip Hop heads becoming closet fans. She keeps the guest features at a minimum and places only strong songs on the tracklisting with no filler material. A solid showing from the rising New Jersey artist. Keep an eye open for more music from pineappleCITI in the coming times.
Purchase the album via iTunes: Citi – "Spilled Pineapples"
Listen to the album via Youtube below.