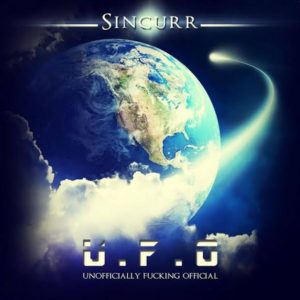 Upcoming Brooklyn artist Sincurr has his sights set on establishing himself as a threat among the music community. In doing so, he officially premiered the release of his eleven track "U.F.O. (Unofficially F***ing Official)" album. Featuring additional vocal support from JeeJuh, "U.F.O." was recorded exclusively in New York City at Become A Star Studios. GYBU recently interviewed Sincurr for our "BuzzN" iNterview series [link] and decided we would like to go more in depth on our favorite songs from the project. Join us below as we begin our review of "U.F.O. (Unofficially F***ing Official)".
"Conscience Freestyle" – "We all can't live life like Cosby's", is one of many standout lines from "Conscience Freestyle". I feel this is Sincurr's strongest Hip Hop offering from "U.F.O.". We are treated to a more imaginative landscape as the East Coast artist drops knowledge thru audio. This really has a strong influence in old school Hip Hop. His cadence here reminds me of Oschino Sparks of State Property fame. No hook, no singing, just Sincurr offering food for thought.
"Too Much Time" – This song fully caught my attention from the beginning. The chorus is very strong and helps set up Sincurr's verses. His delivery has a strong Brooklyn influence here and follows suit of those classic relationship gone wrong themes. This is the kind of song the fellas throw on when dealing with a similar situation. Even thugs cry and "Too Much Time" might just leave some tears.
"Good Enough" – This song reminds me of classic Kanye. To more precise, the song "Family Business" from "College Dropout" but at a slower tempo. This record got the best of me emotionally. The song has two focal points. One discusses the negative image portrayed in music while the second touches on struggling to feel good enough about yourself. This is a very personal record for the Brooklyn native as he unleashes three years worth of emotions that were bottled up. The beat breakdown at the tailend was a nice way to bring "Good Enough" to a close. The perfect example as to why this was the album's debut single.
"Sense 2 Me" – This has that Uptown Saturday Night sound surrounding it. Sincurr provides an audio biopic on his career this far. He talks about urges to indulge in liquor prior to recording and dealing with the constant negativity shown his way. Seems he is well aware of his surroundings now, speaking from a refined mind set. The melodic chorus here reminds me of something singer Joe would do on a Big Pun or G-Unit track.
"U.F.O. (Unofficially F***ing Official)" starts off very strong with the aforementioned songs. The two part "Alone" seemed to be missing something, perhaps more feeling into the lyrics though I liked the chorus. "Back In The Day (Old School Freestyle)" sounds very dated. I'm assuming this was the concept behind it though compared to the other quality productions found within. Song's like "Too Much Time", "Good Enough" and "Seems 2 Me" show Sincurr is talented when it comes to writing and song construction. Based off what I heard on this project, I'm eager to hear future releases. Check out "U.F.O. (Unofficially F***ing Official)" below, which is also available for free download.