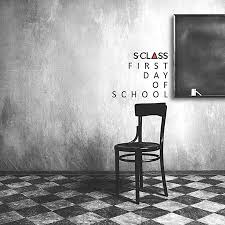 Richland Records owner and emcee S-Class takes to the podium to announce the "First Day Of School" is now in session. He was exposed to a wide variety of music growing up in regions including New York, Minnesota and his current home of San Francisco, which shows in his musical approach. With a strong rooted foundation in old school Hip Hop, SC adds in Midwest lyricism with a powerful West Coast sound. The fourteen track album has appearances for Cre8London, SJay, Khafre Jay and N-Depth, all of which provide a vintage vibe to the project thanks in part to producer SF Traxx. The Bay Area artist also incorporates a socially conscious approach to FDoS, something hard to come by in this age of music. With that said, GYBU wanted to share our thoughts on some of the album's standout tracks and offer deeper insight behind S-Class' freshman solo release.
The day starts with "School Is In Session", which serves as an introduction to S-Class being back on the mic. Over mellow chords and guitar strings, he provides a small summary on the overall album concept which is dropping knowledge on current society issues. This sets up "Housing Crisis", a single that speaks about San Francisco's rapidly increasing living costs. The song also speaks about gentrification in general and is done over a throwback styled West Coast instrumental. Think Too Short meets Chuck D, S-Class sounds at home in this element.
Next up is one of my most favorite tracks from FDOC, "Don't Cry For Me". Featuring the unique vocal tones of CR8London, the two emcees provide a warrior's theme over the dreamlike soundscape courtesy of SF Traxx. This song instantly took me back to the nineties era, back when Hip Hop had a heavy relationship with Reggae, like a KRS-One and Mad Lion collab. I enjoy music consisting of real life influences and hearing about the ups & downs of artists. This one hit home for me, a must hear for classic Hip Hop heads alike. There was a video shot for this as well, check it out below.
https://youtu.be/AfI1TcdZ54k
S-Class then lands a one-two punch with "Corporatocracy". The high paced beat is full of Heavy Metal guitar chords, a multitude of string arrangements and piano melodies that really spark the Cali representative's temper on the subject. He speaks on Corporate America, their exploits on the American people and government bailouts. His East Coast aggression and Midwest lyricism really flourish here, especially in the chorus. On the hook he speaks, "subsidies, tax breaks, loopholes, bailouts / we've gotta put a stop to these government handouts". This is another of my favorite tracks from the release.
"Rory" tells the story of a person dealing with the breaks of life. The way the song was written sounds as though S-Class found inspiration in golden age emcees like Kurtis Blow and Slick Rick. Even his delivery sounds very vintage, sure to make older fans of the culture smile. We're then treated to the second guest feature on "First Day Of School" with SJay on "Let's Connect". This is just some classic music for your ears. Two artists speaking on building and combining wits over a Jazz based production.
The album then offers up its first commercial sounding single with "Give It All U Got". Again, the Richland Records owner decides on a strong West Coast sound that is meshed over a throbbing bass line. I really enjoy this song because it appeals to all demographics. I can picture myself listening to this as a kid for inspiration. With all the negativity and lack of role models in music, this song is a refreshing to hear. Besides having a strong inspirational theme, this is a great record for summer. Whether you're cruising around or having a weekend get together, I could see this landing on the music playlist.
After the recess session, school is back in full effect on "The Federal Reserve Pt. 1", picking up on the socially driven subject matter of previous songs "Housing Crisis" and "Corporatocracy". As you may have already guessed, the focal point is on The Federal Reserve. S-Class sets his sites on shedding light on who these people are and exposes their sinister ways. S-Class must really love pitbulls because he devoted a fact filled song titled "Man's Best Friend". This may be the first time I've ever heard a song like this. I was iffy on how I thought about it at first. After listening a few times though, it kind of grew on me.
Up next is the second song I feel would fair best on radio, "Pay 'Em No Mind". Perhaps SC revisited the concept of "Give It All U Got" for inspiration for this. Whatever the case, this is another song that has a high chance of being a commercial release. I love the feeling of this recording as it offers up hope and guidance for a wide spectrum of us all. The short stories used in the song as equally impressive. SF Traxx has been lining up tracks for S-Class constantly on this album so far.


"Heart > Mind" is exploding with an ancient exploration basis as influence. Topics range from Egyptian mythology to being spiritual defined. The beat is a melting pot of Middle Eastern and Indian patches with an accordion melody blended in. The beat and chorus are my favorite pieces of this particular song. "Prison For Profit" gets back into the social injustice mindset and could also be listed as "Corporatocracy Pt. 2" as both song's concepts go hand in hand.
"Unity 101" features Khafre Jay and N-Depth and focuses around being untied as one people to overcome today's world issues. We then reach the end of the school day with on last lesson on "Nestle" that addresses the company's heinous business activities carried out worldwide, closing out on the same note "First Day Of Class" began.
https://youtu.be/uC800znkreo
S-Class does a great job of expressing a conscience mindset over catchy instrumentals. I really enjoyed a large portion of the album. Though I feel "First Day Of School" will appeal mostly to an older male demographic, his commercial singles present him to a wide range of younger listeners. He's also able to blend East Coast, Midwest and West Coast influences throughout the presentation. My top three songs are "Don't Cry For Me", "Corporatocracy" and "Give It All U Got". The album is available for purchasing via iTunes here: