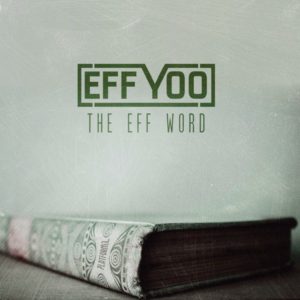 New York artist Eff Yoo combines forces with Chicago producer Rediculus for "The Eff Word", the Queens emcee's sophomore solo endeavor. Similar to Eff's debut project, "Papa Dios", the eleven tracks are constructed into one complete unit with those songs creating a movie like setting thanks to the production details of Rediculus. The beat selections are full of Jazz and Blues samples as well as that good ole NY Hip Hop flavor. The album bolsters a supporting cast that consists of G.S. Advance, Skanks, Spit Gemz, The Audible Doctor, Big Noyd and Airon Azure who all aid in bringing "The Eff Word" to life. With that said, join us as we review Eff Yoo's latest project below.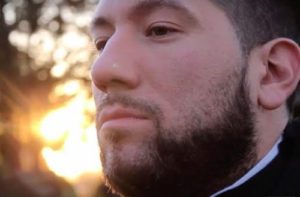 Eff wastes no time getting busy on the title track, "The Eff Word". With a mixture of Rediculus' smooth Jazz ensemble, the Queens emcee sounds extremely nostalgic. It was if the Five Boroughs themselves was putting a battery in his back as Eff effortlessly sprints thru his verses with time to spare for the scissor like cuts from DJ TMB. What a way to start things off. The album then gets pimped out with vocalist Airon Azure on "Burgundy Boat Shoes". Eff draws in inspiration from the throwback classic, "Lodi Dodi", from Slick Rick but with an ice cold demeanor. You wouldn't want a pimp smack from Eff, that's for sure.
After some inital dialog, the soulful sound of "Alpha Mega" pans in. Rediculus decides to keep the drum programming simplistic with no solid kick drums or snares, giving it a rustic feel. This becomes a great platform for Yoo to showcase his storytelling capabilities which sets up the next song, "The Great Escape". Talk about a great story, these two guys did a spectacular job on this on. Using old gangster movie sounds and a layered steel drum melody, Eff you assumes the role of public enemy number one. Adding in the audio of news clips really helps listeners visualize the lyrics.
With the preceding track telling the story of a wanted drug kingpin, we then find Eff in posthumous remorse as he explains his mindset on "God Hates Me". The song has a sick verse from emcee/producer The Audible Doctor and a second appearance from Airon Azure. By far, this is my favorite song off the album. I love the beat, the reversed harmonicas, xylophone and drum patches set the mood for the subject content. Bars like "section 8 raised me / food stamps daily / garbage pail baby / I swear that god hates me' have that swing cadence deliver that will have your haed nodding along to the story. "Archie Bunker" features very chill sample selections from Rediculus as the Queens lyricist sends out shout out in true Archibald character. What makes this song especially smooth is the live lead guitar played. This is found on the chorus but more notably at the end were listeners are treated to an all out solo journey.
Eff Yoo has been holding down the album so far and now it's time for the Windy City producer to do the same thing as found on the interlude, "Winding Time". This plays more like an instrumental and is shocking to not hear Eff flex over. Don't be surprised if you hear someone bootleg this and make a dope song from it. Next up is the super creative approach of "Peach Marmalade". Drawing in inspiration from the likes of Mortal Kombat and Street Fighter, the seasoned emcee hosts a convo thru rhymes. Think of Nas on his "Book Of Rhymes" track and you'll get a good idea behind the concept here. I also caught a flashback to Common's "Orange Pineapple Juice".
"The Eff Word" then gets back into that grimy element with "Chinese Super Ninjas". Fans of Broken Home will rejoice upon hearing that G.S. Advance, Skanks & Spit Gemz are featured here and hard body as ever. Big Noyd then lends his lyricism on the chilling "Indiscriminate Shots" that sounds like to mafia bosses speaking over ghastly strings and drums. This leads us to the final song of the LP, "The Last Word", a great play on the album title. Over a colorful production, Eff Yoo shares some choice words, runs thru the beat and concludes with shout out and thank yous.
It's been a minute since we've heard something like this coming out of New York, preferably Queens. It's as though Eff is paying homage to acts such as Nas, Mobb Deep, Kool G Rap and 50 Cent to be more exact. What Eff Yoo and Rediculus have done here is construct a project that plays from start to finish. There's songs like "The Eff Word" and "God Hates Me" that stand off on their own two feet but this is a release that's designed to be play throughout. You get a good variety of Hip Hop from hardcore to backpacker. GYBU approved, grab a copy of "The Eff Word" via iTunes below.

Purchase "The Eff Word" via iTunes today: [Purchase Link]