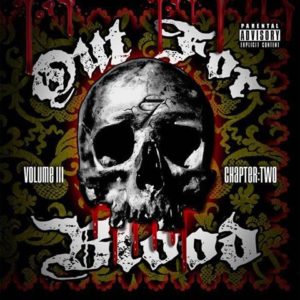 Seven Oddities Records presents the next installment in their Out For Blood mixtape series with the eleven track hardcore sounds of "Out For Blood Vol. 3 (Chapter 2)". This particular release showcases the alpha male approach the crew exemplifies when it comes to demolishing emcees and anything that looks at them the wrong way. Again, the album is produced solely by label founder DreamTek and features all the members of the Oddz family. With one video already having been released for "Standing On The Edge" and another for "Killing Fields" coming soon, we couldn't wait to dissect it for this review segment. So throw on the headphones, buckle in and join us as we examine 7oddz in "Out For Blood Vol. 3 (Chapter 2)".
After a brief introduction, the project kicks off with "Rush The Throne". Featuring Clever One, DreamTek, SaveOne and Roy Hobes, the song bolsters low octave strings and a hefty bassline melody that serves as ground zero for the emcees to do what they do best, shit on wack rappers. Like we previous stated in the review intro, this album is full of brash vocals and eerie production as found on "Some Nerve". With a gnarly growl, Tek swarms the mic in his patent bad guy persona with Doomsday picking up the hook reciting lines like, "if you ask me you rappers got some nerve / bunch herbs chasing props that you don't deserve / we put in work while you socialize online / all eyes on the Oddz, welcome to the darkside". Add in a razor sharp third verse from Tony Pantagonia, who makes his presence known on this chapter and you have yourself a dope Hip Hip cut full of reversed sampled horror notes and humming bass that had my 6×9's jumping.
Only two songs in and that's when "Murder By Committee" begins to play, one of my favorite cuts from the tracklisting. The intro gets your blood curdling as the Scooby Doo like sound begins to creep in. Then just like that, the Oddz smash the scene like Desert Storm over a beat so hard I felt like I need a drink (Laughs). I'm dead serious, this one sounds like a cross between Ghostface's "Apollo Kids" and "3AM" from Eminem. Tony is found in rare form as he, Clever One, DreamTek and PozLyrix exchange some of the hardest bars on the album. I love their ability to pick up and finish each other's rhymes, it's what sets them apart.
What happens when five Oddz lyricists take on the world? Find out on "No Mercy", as the squad smashes a beat that sounds like it was sampled out of a war drama. The hook that Tek lays down is hella tough with Poz carrying the beat like a fallen comrade on the battlefield. Hobes and Tony offer cover fire as Clever One slits the mic from ear to ear. With a clever South Park introduction, we come upon the debut single from OFBV3C2, "Standing On The Edge". This is another of my favorites; from the Wild West piano, to the crunching drums, this is the song that displays the label best. Tony Patagonia once again provides the kerosene that get this one going. Tek goes postal speaking on the old him, how Hip Hop has bitched down and about the shadiness of the business. SaveOne closes this one out. "Billiards" sounds similar to "Murder By Committee" with it's production and continues the theme of "Oddz ain't to be fucked with" mentality.
Things begin to get funking as Poz unleashes a "Full Clip" with brother in arms Tony, Clever and Scenic Roots backing him up. Then of course it wouldn't be complete with Tek playing Sylvester Stallone on The Expendables. If the bomb blast didn't do you in then you're sure to feel the adrenaline behind "Natural Disaster". SaveOne creeps around to the back while Patagonia and Clever bumrush the front entry out for blood. The beat is high paced and fierce, a strong song from this album.
"Neglected Mutts" has a vast amount of layered strings and just make it very suspenseful. It forces you to listen to the lyricism that's displayed by SaveOne, who deliversone of his best verses. Billie Dee Boodah makes one of only two appearances who also matches bars among Oddz leader DreamTek. If by some strange reason you still haven't been sold on these guys being a problem, "Seven Strikes" will dead any doubt. With a sample of KRS One on the chorus, the fellas hold no punches over a beat that even the most hardest of men will feel. This is another song that has became a real favorite of mine. To end OFBV3C2; Roy Hobes, Billie Dee Boodah and SaveOne turn into "Killing Machines" over a sixties-scientific sound bed with a movie skit outro closing things out.
"Out For Blood Vol. 3 (Chapter 2)" was designed for Hip Hop heads, a demographic that appreciates the art from of emceeing. These guys have been around since 2000 and after hearing the album, you'll be amazed at how well they work among each other as found on songs like "Murder By Committee". Though I wouldn't see any of these records catching FM play, that's not what was in mind when OFB was designed. They have other projects such as "Old Fashioned Hip Hop" that provide that. This is for the blunt smoking, forty sipping, cypher dwellers that can appreciate what 7oddz creates and that's real Hip Hop.
Listen and purchase "Out For Blood Vol. 3 (Chapter 2)" below: