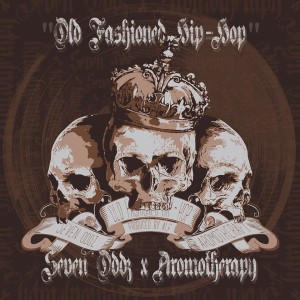 Seven Oddities Records premieres their latest effort, an EP produced entirely by Aromotherapy's ALF entitled "Old Fashioned Hip Hop". Nine songs of unfiltered, hard hitting lyricism over Boom Bap instrumentals. 7oddz is one of the unpolished gems of indie Hip Hop and OFHH further solidifies them as a top tier crew. Having strong support from Chicago and it's surrounding regions, they set out on a new quest to showcase their abilities on a global level with this release. In doing so, the Ukraine/ Chicago connection cranks out some classic records. Join us as we review 7oddz and ALF's "Old Fashioned Hip Hop" below.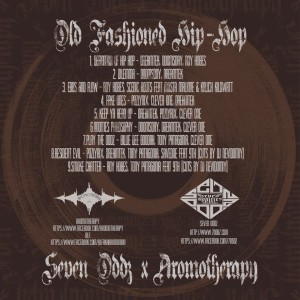 The EP begins with "Definition Of Hip Hop". 7oddz godfather Dreamtek starts things off by effortlessly slicing the beat with swift wordplay, setting a strong precedence over the eloquent production. Lines like "music gives me a reason to keep breathing / leave a piece of my soul over the beat after I'm speaking" and "got more sacks than wack quarterbacks" makes a true Hip Hop fan crack a smirk. Doomsday slides in on back up with more clever bars and Roy Hobes brings the song to a close with his strong baritone pitch.
No secret here, this was a great song to kick things off with. The EP gives listeners no time to breath as ALF conjures up a head nodding beat full of layered pianos and crispy drums, the perfect choice for the storytelling of "Dilemma". This is where we get our first taste to a new sound from the Oddz and quite frankly, is one of their best concept records to date. Talk about channeling some old school Hip Hop, listen as Doomsday and DreamTek give a performance that would make even Slick Rick and Nas give their seal of approval. What starts off as a regular day heading to the studio turns into a wild goose chase in search of weed, which ensues into a tight situation with a surprise ending that will have you shocked in awe.
ALF channels a dope jazz sample for the intro on "Ebbs And Flow" and proceeds to chop it up for Roy Hobes and Scenic Roots, who both ride the beat without breaking a sweat. To add the finishing touches, we're blessed with rhymes from Ukraine emcees Masta Malione and Kalich Kilowatt, who flow in their Ukrainian dialect. Again, the meshing of two totally different countries is working well.
"Fake Ones" finds both it's chorus line and inspiration taken from The Roots "Clones" single from "Illadelph Halflife". Here we find the posse in true 7oddz fashion, shit talking and smacking weak emcees around. We also find ALF incorporating a Didgeridoo synth making this one super cold, a perfect fit for PozLyrix, Clever One and DreamTek.
"Keep Ya Head Up" is another surprise record I'd never expect to hear from the Chicago squad and again displays the linguistics of Tek, Poz and Clever. The Rhodes, classical strings and horn ensemble give this track a timeless feel and finds the fellas reciting some extremely personal lyrics that will have you seeing them in a new light.
When thinking of old fashioned Hip Hop, the word cypher comes to mind, enter "Oddities Philosophy", the debut single and video from OFHH. This song follows the classic posse cut theme, dope bars and hard beats. That all changes on the wild wild west vibe of "Play The Oddz" though. Billie Dee Boodah, Tony Patagonia and Clever One swing bare fist vocals all over this one with a hyped up hook provided by Tony.
"Resident Evil" is a very dark sounding record, definitely for the die-hard Hip Hop fans. DJ Nevidomiy provides the chorus cuts over a sample from the cult classic video game. For this entry, we get blitzed by PozLyrix, DreamTek, Tony Patagonia, SaveOne and a second Ukraine feature from 9th. This song will have the weaklings playing the wall and shivering, fearing the oddz. The EP closes with the peace pipe puffing of "Smoke Chatter". Once again featuring superb cuts from DJ Nevidomiy, the hook features samples of Redman and Method Man's "How High" single. Hobes and Tony hop on this seventies inspired funk cut and are also joined for a second time by 9th. This one is sure to be a favorite for the smoker friendly types.
What 7oddz and ALF have accomplised on this project is insane. The way they can both adapt to one another's sound is amazing. You'd never had thought that a producer from the Ukraine could develop such a strong, old fashioned sound like he has if you hadn't been told so. OFHH also propels Seven Oddities into a new bracket of emcees, ones able to branch out around the globe and create classic material. If you like what you hear, you'll be happy to know that the crew has already lined up more international projects to drop in 2016. "Old Fashioned Hip Hop" is available to stream and purchase below.