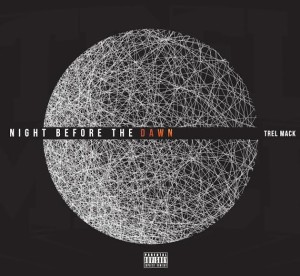 SKE Records own Trel Mack presents his fourth studio project, a nine track album entitled "Night Before The Dawn". The project has guest features from Mel Alston Jr. along with label mates Shawn Archer, Petter Jones and Q The Question. From the production standpoint, we're treated to beats from the likes of Canis Major, Yung Exclusive, Lexi Banks and a few others. The Philly native does a spectacular job of providing solid singles and videos to back the release. GYBU has been following Trel and the entire SKE Records roster for some time now and want to dive into our favorite three records and offer some deeper insight in this review of "Night Before The Dawn".
"All I Need"
Though it was tough to select only three songs from the EP, "All I Need" was an obvious top pick. Producer Lexi Banks does a spectacular job of providing a meditating beat full of thick synth bass, subtle piano chords and guitar strings, a great selection for Trel to dive deep into self reflections. This is a song many of us can closely relate to. What also helped make this a top three choice was the video the single was accompanied by. High quality landscape shots and the clever use of editing displays two versions of Mack, where we find them conversing about life's journey. This one is my personal favorite.
"Walking With God"
Not very often do we get treated to material that speaks about God these days. It's mostly vain and materialistic subject matter found in popular music. Over a potent instrumental from Chysty, the SKE Records alum takes to the podium to offer up an an audio testimonial on "Walking With God". The song intro will invoke goosebumps, as it plays out like a movie soundtrack. The Reggae influenced chorus line really sends this single out of the park, also with an accompanying video where we find Trel Mack playing the role of pastor for all of Philly.
"Luv Is Life"
"Luv Is Life" is just bursting with feel good vibes, a record to throw on when you may be feeling down or in need of some inspiration. Nanzoo constructs something so soulful, it jumps out at your ear drums. The fast paced drums help keep the high energy carrying on from start to end. Trel goes into great detail describing all the meanings behind what love means using well conceived lyricism, all leading up to the sample chopped chorus.
"Hot Pursuit" was also a strong contender for top picks and deserves an honorable mention as well.
"Night Before The Dawn" is a great album overall. Every song could be issued as a single and there's absolutely no filler material. If you like what you've heard in this review, make sure to head over to iTunes to grab a copy for only $7.99.
Purchase the album below: