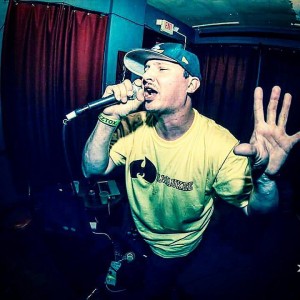 Back in October of 2014, Get Your Buzz Up received an email submission for a song titled "Road Is Ruff" from Australian producer Dcypha that featured a Milwaukee emcee named Taiyamo Denku. Not only was the song solid but the other thing that caught our attention was that this single featured Hip Hop vets Sadat X and Craig G. How did these guys manage to line up a song with these legends?! From that point on, GYBU has been following Taiyamo as he's dropped songs with Reef The Lost Cause, Black Rob, Kool G Rap, Jadakiss and a slew of other highly respected artists in the game. Now, the Wisconsin wordsmith is poised to release his upcoming collab EP with producer Nick Wiz cleverly titled "If I Did An Album With Nick Wiz" on March 1st. Join us as we speak with Denku about his twenty plus years in the game, Dcypha and the CyphaDenMusic imprint and the upcoming EP in this edition of our "Buzz'N" iNterview series.

Taiyamo, glad you could join us sir. You've been creating Hip Hop music for along time now, twenty years to be more exact. Thinking back to the early beginnings of your career, what was it that inspired you to pursue emceeing? What was your mindset as an artist at that time?
Thank you, I started rhyming when I got to high school around '96 but I listened to Hip Hop way before that. I remember Wu-Tang dropping "36 Chambers" and before that, I was a fan of KRS One. Rhyming became easy to me, I started out freestyling before I wrote anything down on a paper. I can honestly say I didn't think I would ever be able to share a track with KRS One if you would have asked me back then. I would have said yeah, I wish! (Laughs) I never thought it would happen. When I started out, it was just something fun. I didn't get serious until I met my group W.A.S.T.E.L.A.N.D.S. in 2000 at college.
The group remained active until around 2007-08. But being in that group there was so much more I wanted to do, so I started doing solo stuff and eventually the others in the group pursued other life directions. I was off on my own but I think once I started taking Hip Hop serious, I started looking at things differently like I know I can do this mentally. That's why I am still strong in music today because I didn't give up, I just kept pushing the type of music I believe in.
Taiyamo Denku is a unique stage name. Anime fans may get the notion that it's derived from the famous Dragonball Z franchise. Is their any truth to that? What's the story behind your name?
Well actually, I might have watched one episode of Dragonball Z ever… It didn't keep my interest. I was more into "Ghost in the Shell", "Ninja Scroll" and even "Akira". When I came up with Taiyamo Denku, the "Denku" part of the name is actually a creation of my own cartoon character. Around the time I was changing my name from Sandman (because there was already a rapper out with that name), I was trying to be creative with my name choice. Emcees I was around at the time were using cartoon character names as monikers and one was named Goku. So I was like fuck it, I'm going to create my own character and call him Denku and there you have it.
Dcypha is a Hip Hop producer from Australia…. that's a pretty long way away from Milwaukee! How did the two of you even come to meet? Also, could you share with the readers what CyphaDenMusic is about and what to expect from the imprint?
We actually met thru social media, which is a great source of interacting with artists and producers. Maximus and I were working on Milwaukee Monstaz but because of the label that was supposed to put that project out, it was somewhat stalled. So we were already talking a little with Dcypha. Then out of nowhere, Dcypha was like "hey I got this joint with Tragedy Khadafi and Shabaam Sahdeeq, you should drop a verse on it for a project I am working on". Seeing as I never worked with either artist before, I was pretty stoked to be on track. When I sent him the verse he was like WOW! He loved it and we started working together on material immediately following. We are now two albums deep into the CyphaDenMusic movement and are just getting started. We are looking to release 3-4 projects as part of CyphaDen within a year's time span and plan to keep moving forward and never looking back.
You've dropped a massive amount of material. We've been following you since late 2014 and have witnessed first hand the amount of features you've amassed. We first caught wind to your rhymes with a release from the "Supernatural" project from Dcypha and yourself. It was a song called "Road Is Ruff" and it features Sadat X and someone that knows the term supernatural very well, Craig G. I was shocked how you showcased such mic control and held your own next to legends. When you do collabs like these, what is your mindset when writing tracks?
I actually dont even listen to the other emcees verses until I am done writing. I will just loop the beat at my part and do my thing to take the focus off who else is on the track. I've never been one to get star struck either. I mean for me, we are all people and I never been like ohhh shit, so and so is on this track what should I do?! (Laughs) I always been confident enough in my craft that I never stumbled on a case of writer's block just cause of the other emcees on the tracks.
The next big thing we seen was the video for "Meet Your Fate", the Chris Rivers & Big Noyd assisted head knocker. I remember first seeing this and was sold immediately! (laughs) The raw delivery and how you were able to physically express the lyrics physically we're well done. I still laugh whenever I see you drop the "like paraplegics dancing to Thriller! (Laughs Hard) Chris Rivers murders it too though, it's a great record. What's the story behind making this song and video?
Actually Big Noyd was the one who suggested we do a video for this. We sent him the track and he was like "this is dope, I'm gonna kill it but we should do a video too". I was thinking how I would have to hit Chris up again to try and stage his shots for the video. I didn't know if we could even make this happen as he was already getting mad shine shine. But when I did get in contact with Chris, he remembered the verse and shortly after we did the video. He also dropped another verse for me but keep that on the hush hush, it's coming soon. (Laughs)
So yeah, Noyd wanted the video to happen so we gave ya'll "Meet Ya Fate", all recorded in different locations and edited into one dope video. My part was shot in Milwaukee by my homies from Bass Head Music, much love to those dudes. Noyd though originally from Queensbridge was in Florida at the time. He shot his down there and Chris shot his out in NYC. We then gathered all the footage and sent it to our editor Empne out in Greece to add the final touches and bring it all together for what you know today as "Meet Ya Fate".
The next full length project Cypha and you dropped was "RadiOctave" in June of 2015. The album featured nineteen tracks and like it's predecessor, featured a slew of guest features from the likes of Reks, Rustee Jux, Bronze Nazareth, Solomon Childs & Ras Kass. What's the meaning behind the title chosen? Explain to people out there that may not have heard this album yet why they ought to be listening to it right now.
"RadiOctave" was an album title I actually had picked out for myself before meeting Dcypha. Since a large amount of my work is between the two of us, I felt it was time to use it. Basically the music is radioactive, one big bomb of music for the radio, it's pretty straight forward. There's also a fair share of rugged tracks on the project too that help give it that feel of just some "get the fuck out my face" music too.
Besides albums, you've released a full on arsenal of loose singles. One of my favorites of those is "Shut Em Down", which was offered as a free record for the Hip Hop fans out there such as myself. This is a song I have on my favorites playlist, not an easy feat! (Laughs). Again, the producer from down under, Dcypha, provides the soldier inspired anthem with an Inspectah Deck sample on the hook. This is hit the gym, had a bad day, murder weak emcees joint. What was the creation process like for this?
That joint was strung together to be honest. Dcypha was sitting on it already for his project "Supernatural" but this one didn't make that cut. We had the NY homie Illa Ghee on it and I wanted to wreck a joint with Illa. So Dcypha offered the song up and said to kill it. When he sent me the reference track, I was blown away! Yeah, Im going in on this for sure! (Laughs) So after that, I sent it back for him to engineer ans then I mixed/ mastered it. I also created the graphic cover for the single and there you have it, "Shut Em Down".
Nick Wiz, another super producer friend of yours. You guys have an album dropping in March titled "If I Did An Album With Nick Wiz". You blessed us all with it's first official single, "I'm Here To Stay". Tell me if I'm wrong but this album seems to be alot more personal than your others, is this true? To be honest, this single could very well be one of your best releases to date. You've been in Hip Hop music long enough to have lived thru the trends and seen the culture change into what it has today. This song touches on your perspective on that as well as your own career. What inspired you to create such a song like this?
Man… the beats on this project created each vibe for every song. That beat just spoke to me. I felt like it was the sole influence behind the creation process. The project as a whole has a little bit of everything to show my versatility with music. I can be personal, I can be a lyricist, I can tell a story, all that is part of this project that I am happy to share with everyone. I just hope listeners catch on to what I envisioned it as becoming; a reestablishment of the golden age of Hip Hop. If they havn't already caught on to that concept, this album should wake'em up. We've got a lot more to come from CyphaDenMusic like I said earlier, we're just getting started.


Speaking about this upcoming Nick Wiz EP, you have some very deep tracks on there such as the Slick Rick style of "3 Blind Mice" and the extra personal "We Don't Cry". That song is very powerful and speaks about loved ones lost. What can listeners expect from the album and what points are you trying to get across on it?
A: Well I wanted to express my wide range of things I can touch on. Sure I can slay a track with known features on it but everyone always asks to hear more solo records, which I have ready on stand by. This EP however is a start in that direction. This album gives you heart, lyrics, storytelling and takes listeners back to that nineties feel of Hip Hop, when it was real life and not just a trend.

Taiyamo, please inform the people of your social media accounts and for those aching to hear more of your material, where can they find that online?
You can catch me on Twitter: @TaiyamoDenku, Instagram: @Denkugod and on Facebook: www.facebook.com/TaiyamoDenku
I've got singles on www.soundcloud.com/TaiyamoDenku and you can buy a lot of the albums we talked about along with the new one dropping March 1st on www.taiyamodenku.bandcamp.com.
Denku, we appreciate the company and allowing us a glimpse into a true Hip Hop artist. Before the curtain closes, is there anything else you'd like to add to the convo?

I would like to shout out my daughters, my family and my lovely lady. They have all been an inspiration to me and continually push me towards what I love to do. S/O to My CyphaDenMusic family for giving me a strong drive with music cause without Dcypha, Maximus and Urban Legend, I don't know if I'd still be here doing music today. S/O HECATOMB, my crew and family of dope emcees. Thank you Carnage, my brother, for wanting me to be part of such a dope crew full of talented Individuals. There's so many other people to shout out but basically if we have had conversations and shared tracks together, I love ya'll. Let's keep building together and putting out that real Hip Hop.
It's reassuring to know that there are still emcees out there that put forth a massive amount of effort to keep the culture alive and Taiyamo Denku serves as a prime example of that pool of artists, a Hip Hop anthropologist if you will. A passionate lyricist, a dedicated father and a down to Earth dude. It was a pleasure having him join us today. Keep an eye on GYBU for future Taiyamo Denku releases and head over to Bandcamp to get a copy of "If I Did An Album With Nick Wiz". (Click Here) This has been another edition of our "Buzz'N iNterview series, we'll catch you next time buzzers.