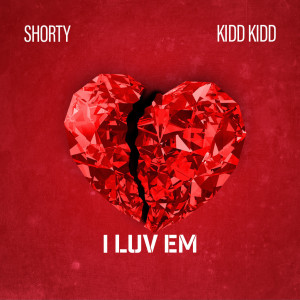 Shorty's fans have been anxiously awaiting the release of the new single, "I Luv Em", after it received wide acclaim on social media, taking Instagram and Facebook by storm. The single combines Shorty's newly found smooth melodic flow with Kidd Kidd's unique delivery. The duo clearly has the newest smash hit single, guaranteed to be a favorite of DJs and fans alike. The release comes just before Mardi Gras with a media blitz that includes radio play and a monster street team effort to take advantage of the influx of partygoers that city is about to see.
Shorty's musical career began in church and his high school band. He came to the realization that he was blessed with multiple musical talents including the gifts of songwriting and the ability to play various instruments which are evident in his ability to craft songs that people want to hear. Shorty endeavors to continue to share his musical talent with the world and join the ranks of his city's notable emcees.
Hoping to soar along the same horizons as his musical counterparts, Young Jeezy, T.I., Fabulous, J. Cole and more, Shorty's team will be heavily promoting the single all across the globe. "I Luv Em" is available for download and purchase on all major digital outlets.