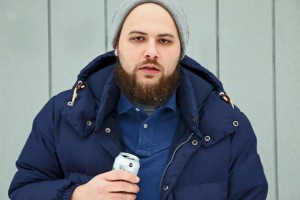 Jordan Beyer is a jack of all music trades if you will. Having acquired a trained art in the use of instruments such as percussion, violin and guitar, the Milwaukee upstart has done it all. From traveling with his high school band to doing gigs with his metal band soon following, the Badger State powerhouse is making a name for himself among the Midwest. Now enter J.J. Jabber, the end product of a musical genius turned emcee who recently dropped his debut solo endeavor, [Insert Title Here]. With a delivery that can be compared to Strange Music artist Rittz but with a more abstract, artful approach, GYBU picked him up on our radar quickly. Join as as we #GetBuzzed with Wisconsin's J.J. Jabber.

J.J., on behalf of GYBU we'd like to congratulate you on the release of [Insert Title Here]! To get things started, why did you decide to choose this particular title for the project? Upon further examination, we find the EP's song titles encapsulated in [ ]. What's the significance behind this symbology?

[Insert Title Here] is a melting pot of sounds and styles. It is the result of working nonstop, for 12 months, with no limits. I pursued a wide range of sounds with Mammyth and a few other close friends, in a very open and experimental recording process. I never came into the studio knowing exactly what I was going to walk out with. I love that. The sound of this EP truly mirrors the process. So, with that being said, we left the album title up for interpretation. And, as far as the song titles go, I basically just followed the instruction of the title itself. Insert the title within the brackets… Voila!
So I have a question I'd like to personally ask. You have a long list of credentials when it comes to music. What was it exactly about Hip Hop that enticed you so strongly? You also credit Rhymesayers artist Prof for helping get your foot in the door career wise. Could you explain how that scenario went down?

Hip Hop has always been in my life, but I love most music. But Hip Hop… Man, there's just something about it that makes you feel so free. From being a listener to being a creator. There's no rules. Just release. Let it all go and just feel the song at that moment. And to go hand in hand with myself truly appreciating all music, literally any genre is permitted! The constant is the drums. The drums HAVE to knock. But anything else goes. Endless freedom.
As Far as the connection to Prof… that was really just good timing. Prof took to Facebook and twitter to ask producers for some beats because he was starting his new album (mind you this was back in 2013). I saw it and thought, "That would be a good idea! I'll do that!" But I never did. Fast forward a month or so, I find myself thinking about how I never sent in beats and decided to do it then. Better late than never, right? So, I introduced myself via email and sent over three beats. Prof's engineer hit me back within a week saying that he was feeling what I sent over and that he needed to meet with Prof about it… The rest was history. I later found out from the two of them, that they had an overwhelming amount of beats sent to them and that mine would have definitely been passed up. Long story short, procrastination won this battle! Funny.
[Insert Title Here] is a canvas colored in a full color palette, as found on songs such as [Patterns] and [Don't Look Down]. For those that may just be hearing about you for the first time, could you offer insight as to what one could expect to experience from the EP? I'm sure this will be a tough question to ask but what song from the project would you say is your favorite at the moment?

This EP is a mosaic. In an attempt to not be held to a certain sound, the general sound was purposefully colorful. As the official introduction to my career, I wanted to exhibit multiple styles to better let the listener know that I don't plan on working with just one sound. Granted, I still plan on having A sound, but I also plan on expanding the limitations of said sound. The approach, when it comes to the creation of the EP, was very playful. A lot of trial and error, with Mammyth. So, taking that all in mind, I would say expect something experimental, yet comfortingly familiar. It loosely tells the story of an aspiring artist. Ups and downs in a world that is most uncertain… My favorite song is probably [Patterns]. Mainly because I'm working on enhancing the live performance and [Patterns] is LIVE!


We know it's only been a month since it's release but with how much we enjoyed this EP, we'd like to ask you what's next up as far as future releases from you are concerned? Perhaps a Rhymesayers collab?
Hint, Hint (Laughs)
I plan on releasing singles here and there for the foreseeable future, mainly because I think it's very important to get out and about. Show face. Make connections. Work on the live performance… I make music daily, so the songs will keep coming, but I wont focus on making an actual album until I feel I'm ready. Until then, just plan on hearing some yet to be announced collaborations and solo work from myself, on a consistent basis… As far as working with Rhymesayers, as of right now, It'll just be Prof, and I will most definitely be continuing to produce for him. I'm actually heading out to MPLS in a couple of weeks to work with Prof and two other producers on his next album. I'm guessing this is the work that will open doors. I have progressed so much as not only a producer, but an artist since I initially got in contact with them. I cannot stress enough how excited I am for this. I've been stacking up beats/ideas for months now.
J.J., it's been great having you join us today. We wish you continued success on your travels and hope to hear more outstanding music in the times to come. You have our support here at GYBU. For those wanting to stay updated with you via social media, where can we find you at specifically?

Always Check Soundcloud for my most recent music. You can find my other social media info below.
Twitter
Facebook
Instagram
Snapchat: jj_jabber
Lastly, what's the one thing you hope that listeners will take away after listening to [Insert Title Here]?
Not to sound too cliche, but… Don't be afraid to take a step forward and do exactly what you want to do. Believe in yourself and the people that surround you. Nothing great has ever happened by the hand of one man alone. Build a team and follow your dreams. Create your own reality and be happy. I don't care how young you are, you don't have time to wait. Do it now.