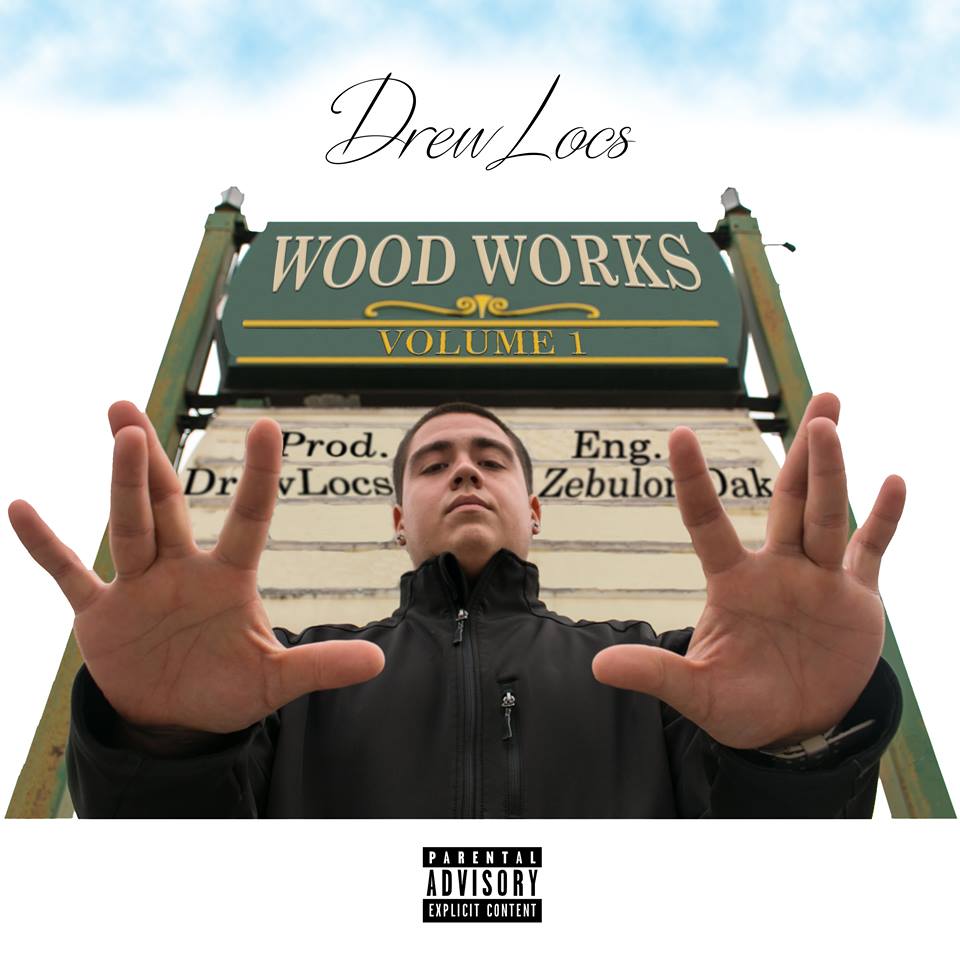 Sherwood, Oregon has a new upcoming artist/ producer emerging from the scene named Drew Locs. After having came up under friend and fellow ETS group member SamuelThe1st and dropping his 2012 debut album "Be Easy", Locs is back with the official follow up, self produced EP titled "Wood Works". Consisting of eight songs with previously released singles "What's Hatnen" and "Lingering Thoughts", the Beaver State talent takes aim at the sky while showcasing his high energy and song creating abilities. GYBU has been following Drew since the project's first single and decided to do a track by track review of the EP, so buckle up as we dive heads first into "Wood Works".
The EP starts off with "The Intro", which is appropriately titled. This song also is the debut video released pertaining to the project. The production is spaced out here, intergalactic like. The song serves as an introduction of who Drew is and his current outlook on life & music. A very strong song to begin "Wood Works" with. Locs then moves into another hyphy record, "Good Look". The vocals carry a strong Rock vibe to them, giving it a stage performance feel. We find the Oregon emcee venting his frustrations to experiences he's encountered among the local scene and makes the proclamation that his crew is a "Good Look" to have around.
Up next is the first released single, "What's Hatnen". This is when the EP takes a turn from a modern radio rap into a soulful Hip Hop direction. The song features a clever sample from Marvin Gaye's "What's Happening, Brotha" and the song title is a play on that. This is another standout cut from "Wood Works" and finds Drew in a very open mind state, going into great detail about his current life situations. Then we experience "SherHOOD", a classic Hip Hop theme song complete with an intro and outro skit. The beat has an old school flare to it as well, something old heads will find themselves drawn too. I really enjoyed the story telling lyrics on this one, I listened repeatedly to pick up the full story.
The album then moves into something "Funky", complete with mellow production full of plush organs, hand claps and triangles. This will very likely end up as a smoker's anthem. It could also very easily be the next single, as it has a very commercial sound to it, very easy on the ears. "What's Mine" gets the award for best production on "Wood Works", also the most Hip Hop influenced release on the entire EP. With less than a year under his belt as being a producer, Locs does an outstanding job handling the production, another dope sample flip here. The Northwestern pays homage to both Nas and The Game with the opening lyrics: They say sleep is the cousin of death, so my eyes stay open cause a dream's a kin to your last breath. This is currently my personal favorite of the entire EP. If you do anything, check this song out. The Hip Hop sound continues on the emotionally driven "Acceptance", with Locs providing a deep hook to further the seriousness. The second audio single, "Lingering Thoughts", serves as the outro song for the project and moves back into a more current radio song. It's a great way to close things out on cause it has that achievement feeling written all over it.
With only a small amount of production time under his belt, juggling music and college both at the same time and being twenty-two, Drew Locs did a great job with "Wood Works". He showcases both his song writing ability and production talents while merging radio friendly releases with classic Hip Hop. Though most of the EP's content revolves around Drew's personal life, it's a story many college students and upcoming artists can relate to. My three personal favorites include "The Intro", "ShorHOOD" and "What's Mine". Check out Drew Loc's "Wood Works" in it's entirety down below.