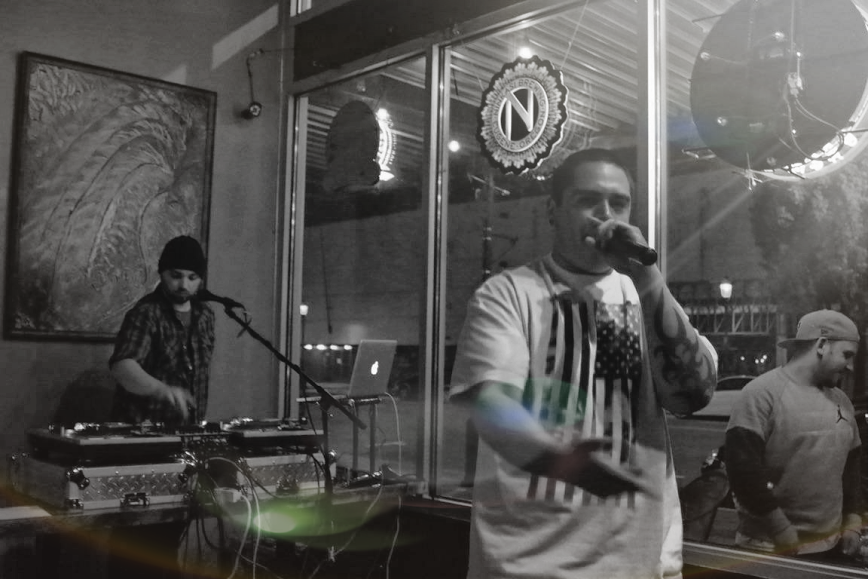 The Northwestern part of America has had alot of hot emerging talent coming from the area, Portland, Oregon especially. With TOPE making his way down to Cali, STRAY Music Group doing their thing and a long list of others, we come into contact with Drew Locs. The PDX artist first got his feet wet recording with close friend and fellow ETS squad member SamuelThe1st. Soon after in 2012, Drew dropped his first solo project, "Be Easy" and caught some solid buzz on the campus of Willamette University. Fast forward to 2015, the Rose City talent began zoning in on producing and after six plus months of juggling college and recording, is poised to present his latest project, "Wood Works". Join us as we speak about the upcoming album, past releases and what inspired Drew Locs to take up producing in this edition of our "Buzz'N" iNterview series.
What's going on Drew? You're a very busy guy these days. How did you find the time to attend classes, produce, record and support yourself all at once? I'm sure many people are curious to know this! (Laughs)
(Laughs) No doubt man, it's been a grind to say the least! School was my main priority and any free time after that went to producing and working part time to fund this project. I learned not to let the BS get to me and control what I can day in and day out. I also constantly reminded myself why I'm doing what am doing which helped me stay focused throughout the process. Shouts to anyone with a grind though! I know I'm not the only one.
Let's visit the past for a moment. You stated that you first got into recording music with SamuelThe1st, who we're familiar with here at GYBU. How did the two of you meet and what makes you guys such a great combination?
Ayee that's my bro! Crazy story, Sam and I were actually born on the same day in the same hospital, just a few rooms apart. We met way back in elementary school and our parents got to talking and found all that out. Crazy right? (Laughs) We started recording back in high school and been doing it ever since. I think we make a great combo cuz of our ability to collab on anything. Whether it be on a new track, production ideas or even business ideas, we're able to be straight up with one another without feeling like we're stepping on toes. This brings out the best in us I feel because we don't let each other slack on anything. I got him and I know he's got me in any situation!
After paying some dues, you gathered up material and recorded your debut solo album, "Be Easy". One of the standout cuts from the release is the title track. How would you explain your particular music style Locs? You have a very chilled, commercial vibe. Am I correct in saying that?

I would agree to some extent. As an artist I tend to go with my instincts when creating music and that chilled, commercial vibe was just what I was feeling on that track. I'd like to think I can switch it up on any track and I feel like I displayed that on "Wood Works".
I mentioned ETS not too long ago. ETS stands for Everything That Slaps as is comprised of a three member squad consisting of Samuel and yourself. I also believe there is a third member by the name of Tee. What's the motive behind ETS and can we expect a new project in the near future?

The motive behind ETS was to think of a collective name for Sam, my homie Tyler "Tee" Hearns and myself. We were also brainstorming titles to call our joint project we had been working on. Together we came up with EverythingThatSlaps. Although we aren't referred to as ETS anymore people around campus still talk about how they slap that daily and want new material. (Laughs) There is NO DOUBT that my brothers and I will be collating on some new slaps! Not sure as to how soon but it's a definite.
I was doing some investigating and came across a video from 2013 in which you were involved in a cypher video titled, "The Showout Freestyles". Could you share the story behind that with our viewers?

No doubt! That's dope you found that. In the summer of 2013, I helped Sam plan and put together a show in our hometown called "The Showout", which was kinda like a mini music festival. We invited three other acts to perform with us including STRAY members Donte and Deontre, the homie Lunz and the other artist in the video, Nick Dutra aka CruzaeJamz. The show was a success and we had a great time performing for family and friends in a cookout styled setting. That cypher was used as promo for the show.
Let's talk about Insomniak. You recently began learning the production ropes and about six months ago, the same time you started working on "Wood Works", you linked with San Diego native Insomniak for a remix to the J.cole and Bas record, "Lit". How did you come into contact with Insomniak and how did the remix come about?

I met the homie Rayvon aka Insomniak in college three years ago as we played football at Willamette together. He heard I had just been getting into production/engineering like you said and he came to me asking if I could record, mix/master his debut mixtape, "Know Your Worth". I told him no doubt and it was a wrap after that, literally! (Laughs) He asked me to hop on a remix he was doing to "Lit" and we ended up killing it. I was stoked that he came to me trying to link up and felt fortunate to land a verse on his tape. Btw he got some work for everybody coming soon… Shouts to the bro!
Up next, "Wood Works". What's the 411 on the album title? So far, you've dropped three releases from the project and "What's Hatnin" was the debut single. What is the sample you flipped on the beat? Whatever it is, it's got that smooth ass saxophone in it! (Laughs)

The idea behind the title was that I wanted something that was in your face and described how I'm coming out of nowhere with a self produced project. I also wanted something that related to my hometown of Sherwood. I think "Wood Works" is dope af and feel it best conveys what I want the title and project to be about. For "What's Hatnen", I was just searching YouTube for samples and came across a track by Marvin Gaye called "What's Happening Brother". I loaded it and chopped it up in FL then turned it into the debut single. Haha yeah, that saxophone goes hard as hell! I knew instantly when I heard that how I was gonna go about sampling it.
Your debut video from "Wood Works" features Samuel on the direction end this time. Is there anything you guys don't do? (LBVS) Again, I'm digging the production on this joint. Talk about what it took to make "The Intro" video please.

Haha we're men of many talents! Nah, but Sam came to me saying he was trying shoot a video for a journalism class he was taking and that he wanted to do it to "The Intro" off of the EP. You already knew I was down and it took us only a few days to shoot and another few to edit. It took a lot of prepping and brainstorming to get the shots how we wanted but in the end, we shot and produced a great video to use as promo for the album. I appreciate him and the time he put in editing to make it dope.
For any of the Buzzers that want to hear more music or stay updated on what's new in your world, were can they catch you online at?

Right now they can stay update with me on my Twitter/IG: @DrewLocs or Facebook: DrewLocs.
To hear my most current music, head over to my Soundcloud page:
Drew, it's been great getting to learn more about your music and inspirations. Is there anything you'd like to inform our readers about? Any Shout outs?

Just to know that this is only the beginning and I've got some great projects planned ready to follow up "Wood Works"! Also I wanna give a quick shout out to GYBU for the dope interview and the continued support. Also, shoutout to the homies who've been supporting me throughout this entire process, I thank y'all! And to those who've been patiently waiting to hear the completed EP, DECEMBER 16TH ITS GOING DOWNN!!!
Whether it's hitting the books or the Mashine pads, Drew Locs goes all in at all times. There's not many artists or producers out there than can juggle both titles and do it smoothly. Make sure to stay tuned into GYBU for the premiere of "Wood Works" and tune into Drew via social media for updates as the release. We'd like to thank the PDX native for taking time out for this edition of our "Buzz'N iNterview series, catch you next time Buzzers.