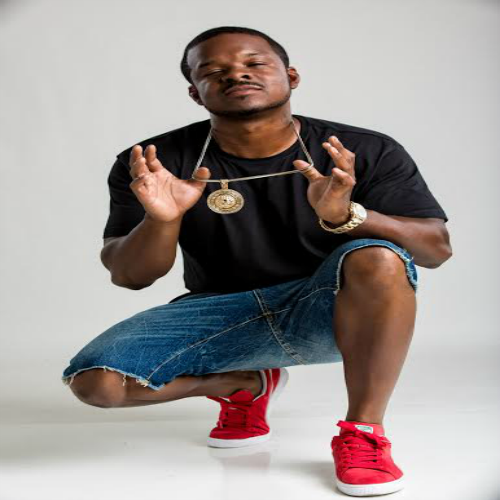 Philly's SKE Records host home to artists such as Trel Mack, Petter Jones and today's guest artist. With a new EP underway titled "Swag & 808s" and The Platinum Sellers produced lead off single "No Lames Allowed", it looks like Shawn Archer is set to embed his name within the City of Brotherly Love's streets. Join us as we talk about the upcoming EP, SKE Records and about the "No Lames Allowed" single. Time to #GetBuzzed with Shawn Archer.

Shawn, on behalf of GYBU, we'd like to thank you for joining us. For starters, you're signed to the SKE Records imprint. What lead to your signing? Q The Question handles a majority of the behind the scenes work over there. How did the two of you come to meet?

First, I want to say thank y'all for giving me the opportunity to do this interview, I appreciate it. Basically I met Q the Question thru Trel Mack for those that don't know. Petter Jones (who is a childhood friend of mine) and Trel Mack are cousins, so we been knowing each other for some time now. We've built a bond that's far greater than music. Plus Q and I share a lot of the same views on the music business, so I felt it was only right to make that move. Big shout out to Q the Question and the whole S.K.E. records.
You had a big hit back in 2013 with "You Kidding Me". The video is entertaining to say the least. (Laughs) What was the basis behind the making of that video Shawn?

I'm glad you were entertained (laughs). Basically the song "You Kidding Me" is about fake rappers who we all know (Laughs), that are just lying in their music. When I wrote "The Treatment", I already had the direction in mind that I wanted to go. I wanted it to be funny so when I sat down with Trel Mack, we came up with the idea to do a parody of 106 & Park. We got my homey Crazy Cuz to play the fake rapper and Petter Jones to be the Interviewer named "Andy Winkleberry". We had a lot of fun shooting it! Big shout out to them and checkout my video "You Kidding Me" below.
So you're currently prepping for the release of the "Swag & 808s" EP. In doing so, you dropped the debut single, "No Lames Allowed". This record is that hyped up club single, something out of Lil Jon's archive. The song was produced by The Platinum Sellers and is full of southern styled horns and hard hitting 808 bass. Is this the style of material we should expect from the EP or did you compile a variety of selections?

Yes. "Swag and 808's" is one of the many layers to my character. M music is a reflection of life so with this project, I decided to give them the happy, turned up side of who I am. Everything is from my perspective. I don't try to be anything other than that and that's how "Swag and 808's" was born. You definitely will hear other type of records in the near future though cause like I said, this is just one of the many layers to my character and I'm just getting started.
With "No Lames Allowed" out, are there plans for a video to back it? What's up next as far as releases pertaining to "Swag & 808s" is concerned?

Yes, I most definitely plan on shooting a video for every song on the project. We shoot our own videos; from directing, to writing the treatment and to the editing process. You'll definitely see a visual for "No Lames Allowed". I think that when you hear a song it gives you a certain feeling but once you see the video it brings it to life. We plan on giving y'all some great visuals to remember be on the lookout.
You've also dropped a few freestyles to build hype for the EP release. One of those records received a visual to back it. Of course I's speaking about "Mic Check". Can we expect more of these freestyles in the coming months?

I just dropped a freestyle video off of Jim Jones "Weatherman" instrumental. You can check that out on my Youtube as well. See, when I was growing up, I was the guy rapping in the cyphers, cookouts or wherever I could showcase my talent. So when I do freestyles like "Mic Check", it's just me going back to that, showcasing my lyrical ability. So aside from the videos I shoot off the project, I'm going to be doing those type of releases as well. It's just another way to build my name and keep my brand relevant.
Mind dropping your social media links for those out there looking to stay up to date with you?

Ok ,cool. Follow me on Instagram: @iamshawnarcher
Twitter @iamshawnarcher
Youtube page: ShawnArchertv
Vevo Page: ShawnArchervevo
Before the curtain closes on this interview, is there anything else you'd like to share with our readers?
Be on the lookout for "Swag and 808's", download my single "No Lames Allowed" on iTunes and everywhere else you can buy music. New videos are on the way and an all new web seriesstarring myself and the whole SKE team. We've got Know and Konquer Clothing, our own energy drink called "Konquer Energy" and the list goes on and on (laughs). Last but not least, I wanna thank y'all again for having me.