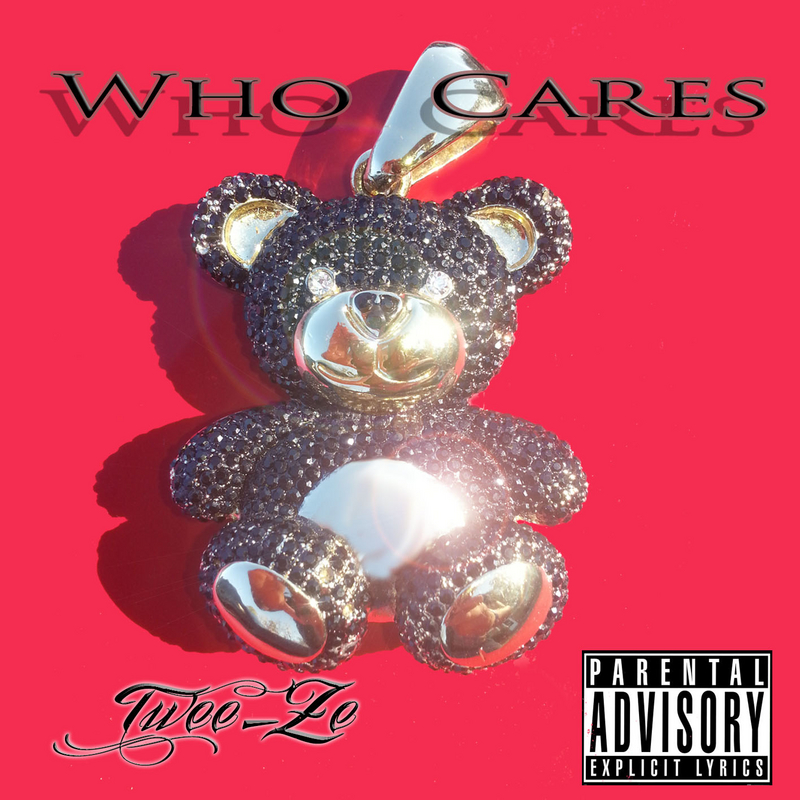 Twenty-six year old Pembrooke Hip Hop artist Tweeze (Twee-Ze) delivers his highly anticipated mixtape, "Who Cares". Consisting of eleven tracks full of catchy tunes and Tweeze's signature Southern tone, the North Carolina emcee captures listener's ears with this release. The E.O.G. group member contracts producers Rewind, Kid Dyno, Tray Pound and a few others while obtained guest verses from the likes of Marz DaVinci, Pappa Sacc Tewsly, TewSly, David Chico and Candace K. Having been sent an advance copy and taking a liking to it, GYBU decided to give it a track by track review. So sit back and buckle up as we experience "Who Cares".
The mixtape begins with the gladiator sound of "Stand Out", a track that speaks on originality and staying ahead of the crowd. This was a great pick to start things off with, giving listeners a well rounded example of Tweeze's style and delivery.  At one time or another we've experienced some form of jealousy or animosity, enter "Thank My Haters". With a intro snippet from Kat Williams' stand up , Twee-Ze serves up a how-to audio booklet on dealing with haters. The release then moves into a conceptual tone with  "O.B.E.". Over a spaced out instrumental, the NC artist switches up his delivery to a melodic sound with Kid Dyno providing the production. I believe the Morgan Freeman intro was taken from the movie "Lucy" if I'm not mistaken. "Bad Man" has that well known Southern flare to it, full of thick bass lines and bounce. The track doubles as a posse cut with features from Pappa Sacc & Tewsly. This is sure to be a fan favorite for those that enjoy classic Down South material.
The Tray Pound produced "On It" reminds me of something straight out of Master P's No Limit Records catalog with it's lush brass ensemble layered with pianos and synths. I see this particular song as having strong single potential, something to party and chill to. The overall mix for "Hands Up" seems groggy, yet I dig the drum arrangement. I'd love to have heard a better mix on this one, it's a decent song. Kato then delivers a solid piano & bass beat on "All Eyes On Me" and you may have guessed that this is has a 2Pac influence behind it, as found in the hook: "I'm on my 2Pac shit/ all eyes on me". This is a potent presentation from Tweeze.
We're then treated to "Ghetto Intellectual", the most socially driven record on the project that touches on the mindset and thought process of those caught up in poverty & violence . Rewind does an outstanding job providing the perfect beat for Tweeze & David to offer up verbal food for thought. I was pleasantly surprised with "Talk To Yall". I knew I'd had heard the sample used here in another much older release. Rewind to K-oS' "Superstarr Pt. Zero". That being said, I automatically liked it based off that. Go Grizzly flips it into a more modernized feel however and Twee-Ze effortlessly flips bars in and out, a dope Hip Hop cut.  We then move into the title track with "Who Cares", which is sonically 
comparable to Lil Wayne's "I Know The Future". Yet another strong presentation and the master mix is phenomenal, it'll definitely have your sound system sweating it out.The mixtape then closes on an emotional note with the Candace K assisted "I Am We". A mixture of "O.B.E." & "Ghetto Intellectual", the topic is unity and oneness, something that we as a society continually struggle with.
With a nice variety of music selections to choose from, "Who Cares" is a well balanced mixtape showcasing Twee-Ze's wide range of tones, cadences and metaphors. It also serves as a great addition for Southern styled Hip Hop music. The mixtape is available for streaming and downloading via the Datpiff player below.