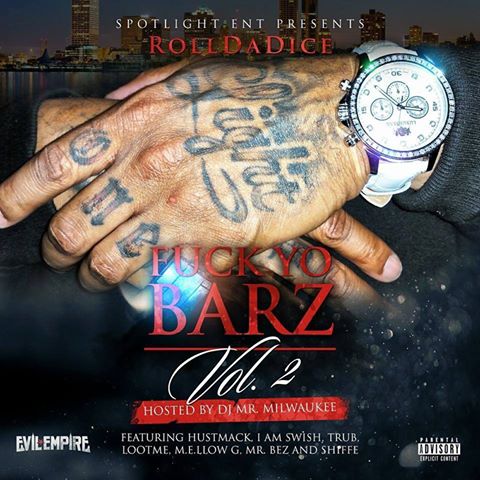 RollDaDice aka P-Nice debuts his latest project, "Fuck Yo Barz Vol. 2", a nine song mixtape that plays more like an EP. P contracts features from Hustmack, I Am Swish, Trub, Lootme, M.E.llow G, Mr. Benz & Shiffe and was able to solidify hosting by none other than the notorious Evil Empire Mixtapes brand. The Milwaukee native has been on GYBU's radar for a hot minute now so it was only right to present a track by track review of the release. Let's get into breaking down FYBV2.
Wasting no time whatsoever, RDD smacks listeners upside the head with the "Intro", a piano laced instrumental finding the Brew City representative setting precedence with a tell tale styled recording. This is the start of a slew of heading nodding hits. Following suit is the collab filled, Master P influenced "Bout That". Alongside another sick instrumental, P-Nice, Shife & M.E.llow G give us a modern day "Bout It". This is hands down the strongest cut on FYBV2. One listen is all it will take to catch your undivided attention. We then get treated to the first remix of the project, Bobby Schmurda's "Hot Nigga" gets a proper Spotlight Entertainment treatment while giving insight into the mindset of a true hustler.
Speaking about Spotlight, up next is the Gaza Beats produced, "I'm In Da Spotlight". This one features RollDaDice, Swish, Trub & M.E.llow G and showcases each of their specific flows. With an infectious, bass ridden trap beat, the team does a spectacular job holding it down for the home team. FYBV2 then switches gears into another smooth remix. This time, it's to Drake's smash hit "0 – 100" putting P-Nice's wordplay directly into action. Upon the conclusion, we're blessed with another strong anthem aimed at the clubs titled "On One". Don't be surprised if you find yourself stuck on repeat reciting the chorus line. Another beat laced with thick bass lines and vocal choirs.
"Bout That Life":
B EZ slides thru to lend an assist along with a memorable verse on the Hip Hop infused "Pussy". To be honest, I wasn't expecting this track to play out the way it did. We've known RDD to provide club and street bangers, so this was definitely a nice surprise. The Wisconsin talent even sneaks in an ode to RZA's alter ego, Bobby Digital, mid-verse. "88 Flows" reminds me alot of something old school, almost G-Unit-ish, especially with the chorus arrangement. If you're a fan of early 50 Cent and crew, check this one out. The mixtape comes to a close with a spin off of the Midwest smash, "Chiraq (Remix)". This one's self explanatory, strictly stone cold street bars. A nice way to close out a well rounded project.
"Chiraq (Remix)":
All in all, RollDaDice pulls off a winning release with "Fuck Yo Barz Vol. 2". I'd have loved to hear more original production but the remix selections are executed well. There's a nice variety of material to be found on the release but don't get it twisted, the overall feel reeks hustler, a sure favorite for corner boys and CEO's nationwide. Available for streaming & downloading via Datpiff, grab a copy of "Fuck Yo Barz Vol. 2" today.