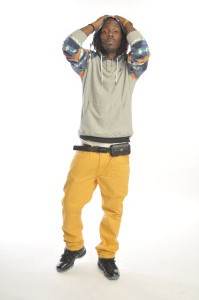 What's up Rique? For those new to the name, where are you from and what do you do?
What's going on, I'm Rique. Also known to many as RoseRoyce Rique, I'm from Asheville, North Carolina. I'm an upcoming Hip-Hip/Rap artist, who also does Pop music as well.
When did you know music was your calling?
I knew music was my calling, when I was 11 years old. It was even surprising to me, how I could listen to a song. Two or three times, and by the fourth time I would be able to reherse the entire song. My first performance was at a talent show for my middle school. Three friends of mines, and myself. Made up a rap group name, and a song on the spot to perform. When we hit the stage, and I saw how all the girls went crazy. I knew then that this is what I want to do as a profession.
Who are some of the emcees that inspire you, new and old and why?
Some emcees that inspired me would be. Tupac and Biggie or course, their hunger and passion for music was before their time. Jay – Z was and is a huge inspiration to me, because he never took no for an answer. He made his own way, and others followed. Ice Cube is a musical genius, who never let  restrictions hold him back. He showed me that, I could accomplish more from my music. And Lil Wayne would be in this category as well. Wayne showed me and taught me to be myself. He's very versaltile and unpredictable. Never afraid of doing the unthinkable, and that's the stage I would like to get to.
Being born on 

4th of July

, Independence Day…what is the significance within what you do as an independent artist on the come up?
Well, being born on 
July 4th
, Independence Day. Ironically enough, goes hand and hand with my being an independent artist on the come up. As an independent artist, my title holds a lot of responsibility. My team and I don't have the major lable source helping us out. We make eveything happen with our own. It could be a bit overwhelming at times, but no one ever said it was going to be easy.
Let's talk about 'Black Roses' your latest project. For those who haven't heard what can you tell them to convince them to download and give it a listen?
Well, for those who haven't heard "Black Roses" their sleeping and need to be woken up. My music is simply put together in word format, to give my fans a visual. A personnel visual of my struggle. Of course I have a few tracks on the mixtape for the ladies, and the club. But besides that, if you enjoy true genuine Hip-Hop, story telling, party on the weekend type vibes. Then this is the mixtape that you need to have in your ride, and home.
What do you want your current and potential fans to experience when you they watch you perform?
When I perform, I want my current and potential fans to experience greatness. Live electric, mind blowing, crowd interactions, crisp sounds. I want them to leave my show feeling like they really know my life, I want them to feel like we've been friends and have known each other for years.
What was your Direct 2 Exec experience like in NYC? What can you share with us about the Def Jam A&R's feedback?
My Direct 2 Exec experience in NYC was awesome. I was super nervous, but I walked in the room and delivered. Like the only way I know how. After my private performance, Def Jams A&R feedback was priceless. He told me that I had "it". He goes on to say, after a long pause. "Man I don't know what to say, you got it, and it could happen any day for you". It was a very emotional moment for me.
What's next for Rique?
Next for Rique, I have my new mixtape "No Feature For Me" due to release this fall, I'm in the studio also. Working on "Black Roses 2: The Tape", I'll be in Miami, Flordia. Labor Day weekend rocking the stage as the feature performer at the 7th Annual Coast 2 Coast Convention 2015. And I'm constantly twitting my upcoming events and shows, so follow me on twitter and or IG.
Where can we find you online?
You and find me online @RoseRoyceRique, and that stands for all social sites. Facebook, Twitter, Instagram, Soundcloud, Reverbnation etc… DatPiff.com you can search mixtape "American High", YouTube you can search "RoseRoyce Rique" for all of my videos and interviews.
Any shouts?

Real quick I would like to give shouts out to, God. My Lord and savior first off, then I wanna shout out my mother, my father, and both my brothers. My cousin Doug Dew, my manager Brian Desmore, my street team manager Jason Valdez. Can't forget about all of my fans. Who I love unconditionally! My girl for all of her support, shout out Coast2Coast Mixtapes for all of their help with my career Lil Fats, Danny, Music Mystro, J Rob. My engineer Flo, out of Atlanta. Shout out J Hatch and Direct 2 Exec Def Jam A&R for giving me a shot at this industry.