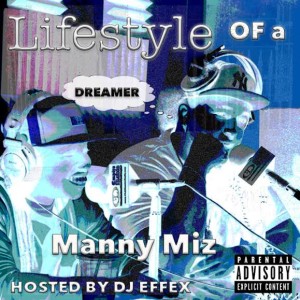 "Swag In The City" radio show host Manny Miz is back from taking a hiatus from making music with his second installment of his Lifestyle Series of mixtapes with "Lifestyle of a Dreamer". Miz contracts guest features from the likes of Meek Jaffe, Jemyle Jones, Nenjah Nycist & DJ Stef Nava and is hosted by Dj Effex. The production is manned by Manny's mentor Tineyi Takawata, Yahrodee Knowledge da Producer and Manny himself. Mizzle explains this particular project speaks about our surroundings and all the average people striving to make their dreams become a reality. Designed along the lines of a concept album, all seventeen tracks serve as puzzle pieces that Manny specifically lines up to tell a story and not just serve as a bunch of great records. With that being said, GYBU decided to give "Lifestyle of a Dreamer" a track by track review to get a better glimpse behind the project.
The project starts out with the Knowledge produced "Mastermind". This serves as an introduction to the Dreamer story about Manny Ortiz. The song has lush pads and a buffet of hi hat combinations that Manny spits metaphors all over. We also get a taste of his chorus approaches, which are extremely catchy. We then move into the lead single, "On The Regular". On this track, Mizzle pays homage to Bone Thugs and channels his inner Krayzie Bone to deliver a smash hit. For Bone fans, you'll definitely appreciate the means in which Manny puts in here, even starting off early in the lyrics spitting "so can you throw this n—a a bone?", this one will surely stick in your head for some time to come. We're then taken over to the DMX inspired "Underdog". From first listen, I immediately though about "It's Dark and Hell Is Hot" and Manny is the producer responsible for the beat. Being from Brooklyn and New York as a whole, this was a great look for the "Swag In The City" host. Showing love to DMX by adding in the classic dog barks, growl and even name dropping him at the start of the second verse. It's always refreshing to hear new artists paying respect to classic artists and showing the influence that past music has on their particular style.
The first interlude comes in and sets up "Lifestyle Of A Dropout", which was previously featured on the first Lifestyle Series mixtape. "Feel This Way" screams New York all over it, it sounds like something the LOX would do. This record really digs deep down into current events and situations of today and shows that Manny isn't just an artist that can make catchy tunes or recreate sounds of yesteryear. With a very powerful chorus, this song serves as a wake up call to listeners and is rumored to have a video to accompany it in the near future. "Tryna Get By" carries a feature from Nenjah Nycist and is a survival proclamation as detailed by both emcees over another Knowledge production, sounds like a dope Dip Set mixtape cut. "9 To 5" features Stef Nava & Jemyle Jones and serves more so as a radio single. Also rumored to be a single with a visual to back it, Manny addresses the stress & woes of holding down a working man's weekly schedule. The beat starts off on a smooth tip here on "Genie And A Bottle" but then it just spazzes out on an analog tip and Mizzle tells a tale of someone at war with indulging too much in alcohol.
The second DJ Effex interlude drops and moves into "DeBussy". A classical themed production finds Manny deeply expressing his frustrations thru story mode, another song that shows his overall talent. Miz mans the production once again for the chipmunk/ soul sample technique chorus line of "Only Want You". It's obvious what this song is dealing with but Manny does a nice job playing with vocal tempos and chopping lyrics. Yahrodee provides a trippy instrumental to reveal the true dealings of "Politics". Things get hyphy on the Meek Jaffe & Nicki Dior assisted "Sophisticated" and soon after DJ Effex takes off on the last interlude. Manny once again goes for broke over the crazy production of Yahrodee on "D & D". This song is high on cocaine or something, pedal to the metal. The mixtape comes to a close on some cosmic, analog Boom Bap sounds with "Mic Check One Two", a straight up Hip Hop type of record.
I really enjoyed listening to "Lifestyle of a Dreamer". I actually listened to it for most of the day. In doing so, I picked up on something that is a downside to the project. The mix could have been cleaned up so the overall sound matched. However, this isnt a retail released album, it's a mixtape. With that being said, Manny Miz did a substantial job delivering a project that contains a slew of hits and also pays respect to rap legends and New York as a whole. My most favorite tracks include "On The Regular", "Underdog", "Feel This Way", "9 To 5" & "Genie And A Bottle" but I actually can throw this on and get the concept behind Manny's approach of telling an everyday story of a Dreamer and all the struggles one goes thru to make those dreams come true. I'll definitely be looking out for the upcoming videos and the third installment of the series. Stream the project below and download a copy from datpiff.com today.
Manny Miz – "Lifestyle of a Dreamer"
Reviewed By: @blitzb_60505