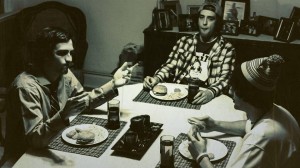 Izzy Strange has the table set and keeps an open eye on his dinner guests on his latest EP, "Dinner With My Enemies". Consisting of ten songs, the Pennsylvanian emcee/ producer gives new meaning to the term, "revenge is a dish best served cold" with guest appearances from fellow BCB members Zeus & Chuurch, Rachel Belneck, Mike Incite, Wise Crack The Scribe & dubldragon. DWME started off as a nineteen track project detailing the Scottdale artist's life but with something missing from the project, a trip out to Los Angeles for a visit to hometown friend Nate Fox lead to a revamp of the album with added production, vocals and a trimming of the tracklist. At last, after three years of working effortlessly on DWME, Beasley's Corner Bodega released the project on Bandcamp and GYBU decided it deserved a track by track review for all of our viewers out there.
Izzy clears the phlegm from his throat to provide harmonies alongside Rachel Belnick on "The Show's Up" with a guest verse from Mike Incite, who also drops by for another appearance later in the EP. With subtle horns and piano plucks, Strange sets a strong tone for the remainder of the project. DWME then moves over to the intensely soulful "One Day", which also earned the first visual from the project. The main focus here is not getting caught up in life's past mishaps but instead focusing on the present and planning for the future. The beat is exceptional here with extensively layered horns and hard hitting drums. The rock guitar infused "Pay Our Bills" tells a tale of a troubled young man that's learning to cope with what life has dealt him and standing all on his own. The lyrics on the hook basically sum up the attitude of this cut, "Your mother don't pay our bills, I do and I can afford you too" .
"BCKWHN" to me has a hidden definition to it. If you listen closely to the beat itself, you can pick up an interpretation of a song from way back when from Kool & The Gang titled "Summertime Madness". Izzy and Nate did an incredible job of sneaking that in without being too direct. This track is a great tune to jam with old friends to reminisce over cherished memories. "Birds Of A Feather" is a love based record that talks about the ups and downs of being involved in a relationship. I really appreciate the classic Hip Hop approach on all the tracks so far and the Chuck Ellis sample flip is sweet. "Take Em' 2 Chuurch" gets the turntable treatment from Wisecrack the Scribe and in my opinion, has true Hip Hop written all over it. The beat is amazing and at some points, sounds as though it's horns were sampled from the Nasir Jones song, "Life's A Bitch". The horn section at the tailend that Nas' pops laid down. Regardless if that's a fact or not, I love the feel of this record, one of my favorites from the EP. It's just Izzy dropping knowledge concerning life.
We then are served up a healthy plate on "Time is Now" which features Zeus, who together with Izzy make up the duo Middle Name Danger and also gives a small taste of what listeners can expect from them. dubldragon. also helps provide to this new school styled version of Hip Hop. The beat has some Middle Eastern flare to it and the drums are fast & aggressive. Like the previous song, this is a purely Hip Hop driven track. "Dinner With My Enemies" than moves back into a concept driven realm with "When the Music's Over". I heard Slim Shady mentioned in the lyrics and "My Darling" automatically came to mind. The song tells a tale of two personalities at arms with each other and is another standout cut.
"What it Looks Like" brings the vibe back to a mellow one with some dope lyrics from Mike Incite and yet another soulful harmony from Izzy on the chorus line. The EP then concludes with "Head in the Clouds". On this song, the production seems the fullest with the live guitar riffs, bell chimes and crispy drums. This is a very uplifting record, I love the instrumental variations, especially the one that crashes in at 1:41. This one has a strong straight rock influence to it. But wait, there's more, a hidden eleventh track follows titled "Robbery", which also has a video to accompany it. This is yet another standout record that features Butch Cassidy & blood brother Chuurch, who also is part of a duo with Izzy called Strangers With Candy. The song talks about how we sell ourselves out on a daily basis, one of the world's biggest downfalls of all.
Izzy made a wise decision heading out to L.A. to work with Nate Fox on this album. I get a strong Chance The Rapper vibe from Izzy and I think connecting with another producer helped bring the true vision of DWME to life. I appreciate all the complexity that went into making the EP as well. All of the various harmonies and different vocal approaches really stood out to me. That and the classic Hip Hop production full of gnarly drum loops, layered horns and slick sampling. I'm sure the more I listen to it over time I'll pick up on even deeper meanings to all the song's concepts but I'm very satisfied with what I got from it now. I'd recommend this album to fans of soulful Hip Hop & Chance The Rapper. I'd also recommend this album to those at a crossroads in life, something to help soothe the soul. "Dinner With My Enemies" can be streamed & purchased from the player below.
Reviewed By: @blitzb_60505