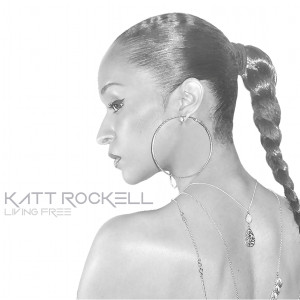 (New York, NY – April 30, 2015) – Culture Creative Music has announced the digital release of "Living Free,'' the official single from its flagship artist Katt Rockell. The single is off Rockell's forthcoming independent debut EP, by the same name, and is available now on iTunes. Rockell performed aboard the 2015 Tom Joyner Fantastic Voyage which featured top artists such as R. Kelly, Jennifer Hudson, Eric Benet, Teddy Riley, Chrisette Michele, Kenny Lattimore, Earth, Wind & Fire and Fantasia.
Rockell states, "With this project, I wanted to tell my life stories as honestly as I could. Truth stirs emotion and I think people appreciate that." The single's video will be released in May.
"Living Free,"with production by super-duo BudaDaFuture and GrandzMuzik, was written by Rockell, who continues to impress industry insiders and blaze a memorable trail with her powerful vocals and commanding live shows. "Katt Rockell brings us outright, straight dopeness," says Evie Rodriguez at TheSource.com.
Rockell's musical footprint crosses multiple genres and she wrote and arranged all of the songs on her project. She is an in-demand songwriter and feature vocalist and has written and co-written for a variety of national and international artists such as Lauriana Mae, Marlon Rudette (Germany) and Joey Yung (China). Currently, she is featured on the hit EDM track "Broken" by Xenia Ghali, which she also wrote, released on Pitbull's Mr. 305 Records.
Rockell has been busy promoting her project with performances at a variety of high profile shows and events such as BET Music Matters, SOL Village at SOB's NYC, BXC Music Festival, Live From Oz, iWrite Songwriters Showcase, and the Next Up Music Series, just to name a few. She performed with R&B/Soul Crooner Jon B. at two consecutive sold-out shows at the Howard Theatre and BB King New York and appeared at the 30th Annual International Dance Music Awards (IDMA's) in Miami Beach. Rockell was also invited to share her songwriting expertise as a panelist at the 2015 Winter Music Conference.
For more information on Katt Rockell, please visit www.KattRockell.com or www.CultureCreativeMusic.com. You can also connect with her on Twitter and Instagram @KattRockell and on Facebook at /KattRockellFanPage. For interview requests and booking inquiries, please contact Sabrina Russ at (772) 226-0794 or TheRussAgency@gmail.com.