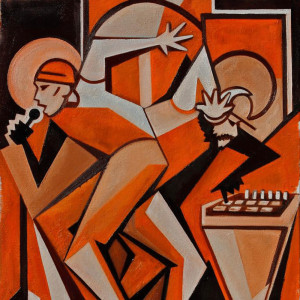 Madison, Wisconsin Hip Hop duo Neu Dae just released their fully featured album, "the past extended", and GYBU was more than happy to give it a track by track review. Neu Day is comprised of Neumy on vocals and Evaridae handling the production end. This is their sophomore release, following up their December 2014's self titled debut. The album is comprised of sixteen songs full of clever lyrics and a classic Hip Hop sound. Just judging off the track titles, one can tell that we're in store for some cunning linguistics. The album art is also something to mention, with all of it's orange pastels and graffiti inspirations provided by Madison artist Martel Chapman. Come along with us Buzzers as we take a closer look at "the past extended".
"wobblestock" starts the album out. Neumy provides a delivery that keeps the listener involved and rides the feel good vibe of the beat. The subtle beat change ups and the back & forth vocals that kick in around 2:24 that let's us know that this is going to be a dope album. Things really get heated up soon after on the dramatically cinematic "astronauts", Evaridea did a good job producing this one. Midway thru the second verse (1:25) we get a small taste of Neu's various flows in which he delivers this double time cadence that you'll need to rewind a few times to decipher. "back against the wall" is brilliant, this is the type of record I was expecting to hear from the beginning. Super clean production, aggressive lyricism and substance matter that will take a few times listening to to really take it in. Once again, Neumy serves a very memorable chorus line with speed like agility. This is one of my favorite tracks from the album thus far. The project then dives into insanity with some old time movie sample and an all out madhouse of a song with it's first guest, Reconsiderate (think Tech N9ne) on the title track, "the past extended". I immediately caught an Eminem "3AM" vibe from this song and I love the beat change ups here, another great production from Evaridea. I also get a Dre/Eminem feel on "love at first night", a circus like instrumental that finds the Madison duo touching on the subject of things such as one night stands and past mistakes made.
Things then move over to a more soulful tone on "the other story". The best way to explain this record is a tale of love told under the influence while bitter & broken hearted. Play Fair Cypher drops thru to lend their talents on "king spirit", with it's warrior themed chorus line. I love the analog sounds and the snap on "social MEdia" and we get a song that delves into the negative effects of sites such as Facebook & Instagram. It took a few listens to really get into it but this is some real Hip Hop, an artform that forces listeners to think instead of providing elementary influenced lyrics. "city of angels" is just bananas, Ox Elian sets the bar high on this one. There's so many quoteable lines here I wouldn't know where to start.  Neu Dae then gives us something I'd explain as "one of those nineties Hip Hop party tracks" with "shadow shaker". The layered organs and synth bass give it a bounce but maintains it's ruggedness, another of my current favorites.
Leet Moteef joins the festivities on "magic carpet ride",  I wasn't feeling this record at first but then when that Parliament sounding hook came in and Neu goes in like a psychopathic sex fiend, things began to get trippy. We then get surprised by a refreshing interlude dedicated to the homies on  "my friends". I get the feeling the fellas took a smoke break at this part cause things kick off on some funkiness on the Duke Daeo & SkYy assisted "knee bender". I love the production on this track and all three emcees hold there own on the mic.  I really enjoy the unique sounds in "that feeling". It sounds like it belongs on an updated soundtrack for "Clockwork Orange". Best line in this track is at 2:34 where he takes a jab at Lil Wayne but with good intent. Even though the entire album has deep lyricism, from that timestamp on, this track exposes many truths that will have you opened eyed. "things change" slows the flow down and is full of lush pads and awkwardness with this drum roll that brings everything around. Kodiak McMountain Lion also makes an appearance here.  "hannah chill" brings the curtain to a close for "the past extended". This track also ends things on a serious note and the chorus gives you a sense of hope.
"the past extended" is a wonderful display of Hip Hop with just the right amount of substance. It has political and social views, poetically driven lyrics, Boom Bap beats & humor. You name it and it's been touched on here. I myself will be listening to this album for some time to come, deciphering the complex rhyme patterns and digging into the deeper, hidden meanings behind the tracks. Neu Dae not only does a spectacular job representing for Madison but for Hip Hop culture overall. From the analog styled production to the vocal deliveries, "the past extended" should find it's way onto your playlist immediately. Stream & purchase the album from the link below.
Reviewed By: @blitzb_60505