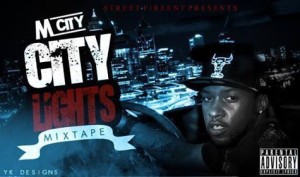 Known best for making moves on the rap battle scene, Madison, Wisconsin's MCity has now finally released his "City Lights" mixtape and takes a stab at penning tracks instead of bodying emcees in cyphers. GYBU recently got first dibs at reviewing the mixtape ("City Lights" album review) and we also caught up with the Mad City representative last August for our "Buzz'N" iNterview series. With delays in the mixtape's release, "City Lights" was awarded a release date of April 22nd. We wanted to catch back up with MCity and speak about what's happened since our last review and ask him some burning questions in this interview segment.
Well first off, on behalf of GYBU, we'd like to congratulate you on the mixtape release. Other than the project release, what's been going on since we spoke for the interview last August?
Not a whole lot just been getting ready to release this mixtape . I also had a few battles tht should be released soon and on May 3rd, I'll have my biggest battle yet against G E from Milwaukee.
"City Lights" seen a slew of set release dates. First, it was set to drop July 4th, 2014 and then was re-slated for August 31st, which is also your only son's birthday. We spoke about that situation but what happened for you to slate the release for nearly a year later on April 22nd?
Yeah, I had a few different release dates but I kept having new ideas and things I wanted to get done that would have bothered me if I didn't, lol. There were still things I wanted to add but felt I couldn't keep holding out on my fans for my own personal reasons. So "City Lights" was finally released.
"City Lights", why did you decide to run with that specific title for?
I chose "City Lights" because I felt that every artist is a light in my city, to help us Shine and with this mixtape, I hope to bring more light to my city which will bring more light to us a whole.
So far, you've shot one video for "City Lights" for the record  "State Of Mind". Do you have plans on releasing anymore videos or do you already have one waiting to be released?
I just released the video for "Riding" last week and the next single will be "New Ish".
I had the privilege to review the album exclusively via GYBU and I was really impressed with  some of the mixtape's tracks, three especially. One of those tracks being "Can I Live".  I have to admit, I was not expecting you to deliver a record like this but I dig it. The beat carries commercial flare and the lyrical content is something everyone can relate to. Were you aiming at a commercial record or did it just happen to play out that way?
No, with "Can I Live" I wasn't aiming for a specific demographic or anything.  I've always been able to make music of that substance but because I'm a battle rapper I think it catches some folks off guard . It's easily the song I put the most feeling into on the entire mixtape.
The second track is "Riding". With 4/20 just passing us by, this is no doubt a smoker's anthem. The beat has that strong Westcoast vibe to it. Other than the obvious, what was the inspiration behind the track and who produced it?
The inspiration behind that track was I just wanted something that represented my city and how a good day would be if you rolled with me thru Madison . I also was looking for a song that you could smoke and ride too.
The final track I want to touch on is "Family". We can all relate to that topic in some form or fashion. It also is the most personal record on "City Lights". What was it like writing and recording that record MCity?
"Family" definitely was a personal song and I had a great time writing it . I actually had some of my family in the studio and that's my real cousin on the chorus!
I have a confession to make, "I Do" has grown on me some since I did the album review. I'm not used to you doing the crooning style hooks. What inspired you to want to approach the record like that?
Lol . . .I was looking for something catchy but also meaningful and that song just represents how you do something to better yourself. It's not just about you, it's usually other people involved that depend on you . so I DO it for myself but i also do it for my fam.
Of all fourteen tracks on "City Lights", which three  records do you feel best describes you as an artist & musically?
The songs that describe me best as an artist would be "State of Mind" , "Can I Live" and "Family".
Do you have any plans on touring or performing to promote the mixtape MC?
No plans for touring now but definitely have shows coming up. To stay in tune with them go like the MCity fan page on Facebook and you will be locked in with upcoming shows, videos, exclusive songs and freestyles .
Well there you have it, we greatly appreciate MCity dropping by and giving us more insight behind the project. GYBU would like to wish the Mad City repper continued success both on the battle circuit and artist grind. "City Lights" is available for streaming & downloading below.
Interviewed by: @blitzb_60505