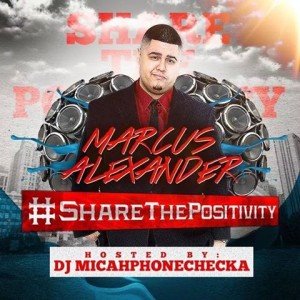 Breaking the stereotypical norm of Chicago is a new artist poised on setting good to a city gone bad on his brand new mixtape project titled, #ShareThePositivity. His name is Marcus Alexander and the aspiring emcee has set out to create music that's uplifting and brings about good spirits. Combined of fourteen tracks, #ShareThePositivity borrows radio hits of today from artists such as Maroon 5, Fall Out Boy & Ed Sheeren and older tracks from Rick Ross & Nas. Today, GYBU is serving up a track by track review of the mixtape. So without any further haste, let's get into it.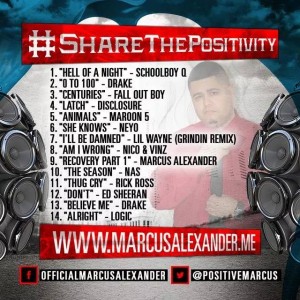 Things kick off on the Schoolboy Q "Hell Of A Night" where Marcus exults a unique voice that keeps you interested in each line that's delivered. With subject matter consisting of improving on current lifestyles and enjoying life, the Chicago artist starts the mixtape out well. Drake's "0 to 100" is next up to bat, it was also the jump off single to #ShareThePositivity. Mr. Alexander bobs and weaves all over the track making it his own. "Cause the fire cannot be contained/ I'm leaving third degree burns all over the game/ you should put some Neosporin on that" is just one of many smooth lines the emcee spews. "Centuries" is the second single from the mixtape and finds Marcus on the first of many of the projects pop tunes and also supports the entire positivity motto. This moves us into "Latch", the bouncy club smash from Disclosure that Marcus flips around into a story of two broken hearts crossing paths and making something good of the situation. Check the second verse where he plays around with delivery styles. Continuing along the lines of love comes "Animals", the Maroon 5 smash hit where the rapper proclaims his animalistic tendencies.
Neyo's "She Knows" gets the Marcus Alexander treatment in which he flips the whole "she knows" criteria depicting the scenario of an exotic dancer's inner thoughts and dealings. "I'll Be Damned" is the street banger of the mixtape sort to say and finds the Chicago spitting "I'll be damned if you think I'm just another rapper" and goes into an autobiographical short. This song stands out to me most thus far because of how personal it gets. Nico & Vinz' "Am I Wrong" gets flipped around into another personal type record that has Marcus at odds on whether he's living right or not. "Recovery Part 1" is another of the mixtape's standout tracks and my personal favorite. A tale of recovery, strength and finding positivity within the storm. Marcus gets intensely personal on this song and serves as his strong point. Nasir Jones "The Season" beat gets blessed on some old school hip hop ish and yet another great memoir of aspiring for positivity within all of the negative ways of the world.
The project then slows down some on "Thug Cry" but doesn't slow down Marcus' mindset or delivery. The song, summed up, serves as a call of arms to anyone needing some inspiration to make some positive changes in life. Ed Sheeren's "Don't" gets a Marcus Alexander spin and follows along the lines of love as in prior tracks. Alexander borrows Lil Wayne's "Believe Me" and proceeeds to make believers out of all the naysayers doubting his flowing abilities. The mixtape comes to a close with Logic's "Alright", the perfect track to bring #ShareThePositivity to a close, especially with the dialect provided by Marcus. Everything's going to be alright…
#ShareThePositivity is a great entryway project from the Chicago artist, full of music and content that is alot more radio friendly than your favorite urban artist's versions. Marcus' ability to transform the tracks into works of his own is great. However, it would of been nice hearing some more original production on the mixtape. Mr. Alexander selects a good balance of energetic, up tempo instrumentals also. After first listen, his tone and voice will grow on you. "Share The Positivity is a mixtape I'd recommend to those listeners that love top 20 hits with a new twist, those aiming for non-violent music content and fast pace delivery. It's highly recommended to anyone out there lost and looking for some positive direction in life. Stream & purchase #ShareThePositivity from the player below.
Reviewed by: @blitzb_60505