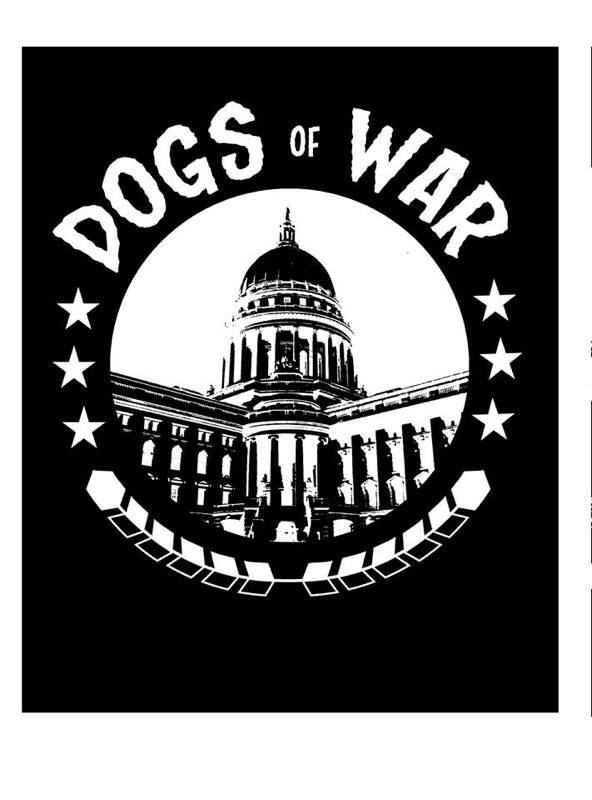 Dogs Of War is a five member band based out of Wisconsin consisting of Anthony Salas (guitar/ lead vocalist), David Payne (drums), Dustin Harmon aka "D"  (bass/engineer) and Dexter "Tefman" Patterson & Samhain Bane (emcees).  The group is set to drop their debut, self titled EP first locally at The Frequency on January 3rd and then online via Bandcamp & Soundcloud the 5th. Constructed of a mere three tracks, the music contained within is cleverly executed and shows DOG's ability to merge genres such as rock, hip hop and alternative. Think System Of A Down meets old school Ice Cube. Let's take a closer look at each of the project's tracks.
"Fire" – This song reminds me alot of Metallica's "One" mixed with System Of A Down's "Chop Suey". Salas crashes thru the speakers at the start with his sharp vocals, setting up verses for Samhain & Tefman. Bane spits a contemplative rhyme with a smooth tone  while Tef bum rushes you ear drums with his powerful delivery. This carries us over to the chorus line in which Anthony spews the "Fire" on which the record's foundation is built upon. This is soon followed by a sweet instrumental lead that showcases the musical abilities of David, Anthony & D. This is a warrior's anthem, something you'd want to throw on after a bad day.
"Go" –  First off, this song is featured in the band's EP promo video. In my honest opinion, this is the perfect song to showcase Dogs Of War; strong guitar leads, hollowing bass and slick drumming set the ideal tone for Bane and Tefman to unleash hell's fury over. A very powerful record, something you'd listen to working out or to let some steam off. "Go" reflects a take no prisoners vibe, theme music to stop making excuses for yourself and do something with your life. Such high energy, I could imagine seeing the fellas performing this live and everyone getting caught up in the moment. Once again, Anthony Salas does a spectacular job on lead vocals, for some reason I catch a resemblance to  Fall Out Boy later in the track.
"Warcry" – On this particular song, DOW slows things down a bit and attempts a more subtle approach. The chorus reminds me of something from out of Rehab's older catalog. Samhain follows next setting the stage for Tef to once again let off some aggression. Although I prefer the more aggressive side of this Wisconsin band, "Warcry" is a solid record that offers more of a rock influence over all three records. I really enjoyed the guitar solo towards the tail end.
For only being three songs long, the EP kind of leaves a small void, I'd loved to have got five records to get more involved with DOW. Yet still, with a very short lists of selections, the guys were able to give an outstanding presentation of what they are capable of creating. It does feel at some points they are still getting better acquainted working all together but with being a debut project, things of that nature are simply a reality. I'm looking forward to hearing more music from them. The "Dogs Of War" EP releases today in Madison at The Frequency and then releases online via the band's Bandcamp & Soundcloud pages on January 5th.
Get to know more about Dogs Of War in their recently released promo video that explains the group and their music in more detail.