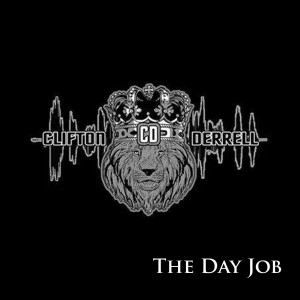 Chicago, Illinois native & Independent Ear Records associate Clifton Derrell is set to release his brand new album "The Day Job" on January 15th. Featuring nineteen tracks (5 of those being skits) and collabs from the likes of Watch City's Angrous, B.A., Theo Write, North the Emcee and Cire. To sum up "The Day Job" it's a story driven, semi autobiography of the rise, fall and redemption of a blue collar worker who strives to become a top notch hip hop emcee. Clifton blends real life issues, humor, introspection, inspiration and faith over hip hop beats and emotion filled rhymes that reflect the everyday mans struggle. GYBU was blessed with the opportunity to give everyone a first look at what the project consists of in the form of an in depth album review, so let's get into it.
Things kick off with the "Intro" that sets the tone for "The Rise" piece of the project. A playful instrumental that serves as the proper introduction to the emcee. Clifton transforms from his blue collar persona over to "Super Emcee" on the next song; a bass filled, comic book inspired soundscape that finds the Chicagoian in perfect form. The off keyed piano riffs of "Respect My Hustle" finds Derrell footed in a more old school hip hop format and is the first track from the album we get to hear his singing abilities over. On "Super Hate" Clifton speaks about the frustrations of working his day job and how he channels his frustrations into music and breaking into the industry. This song cleverly helps set up"Open Mic" which also features some dope, old school infused production that has slight change ups and carries its first guest, Cire. "Open Mic" is story themed and focuses on a night at the open mic spot.
"Come Up Track" features some sweet synth lines and unique drum samples that provide just the right formula for a track like this. We find our main character pumped up off his open mic performance and the way things have been going for his musical career so far on "The Day Job". The LP then gets darker on "ReProgram" and sets the close to "The Rise" portion of the project. If you haven't quite figured it out just yet, "The Day Job" is set up into three parts and plays like a movie.
On "The Fall" portion of the album, the Independent Ear representative delivers a unique sounding production with "Pipe Bomb", fusing genres together and providing a very powerful chorus line. Hip Hop producers will really appreciate the workings that went into this song with it's wide variety of arrangements and variations. "Pipe Bomb" is also the first song on the project that surpasses a 3:30 time frame and we can understand just why by listening and hearing Clifton's wise views of the music industry. "Skit 3" sums up the turn of excitement and hunger of being in the game to that of an artist with his eyes open to the pitfalls of the entertainment industry and immediately kicks off into the self contemplation of "The Crash". Both "Pipe Bomb" & "The Crash" are the albums most powerful records. Well thought out concepts, brutal honesty and well carried out production will ensure that listeners will latch on and dig deep into the content. "Runnin Away" brings "The Fall" portion of "The Day Job" to its close and features a clever rendition of The Pharcyde's 1995 "Runnin" single.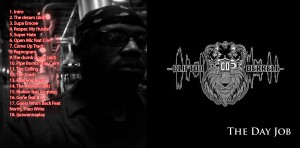 "Skit 4" perfectly sums up the entire project thus far and gives us a good look into the makings of Clifton Derrell over some 80's themed music with a slap bass guitar backsplash. It also ushers in "The Redemption" piece of the album. "Gone" is a very heartfelt moment of the project that details an artist & man at rock bottom and features Angrous of Elgin's Watch City group. "Gone" features B.A. and a sped uptempo production that fuses lyricism over a Black Eyed Peas type of theme with well executed vocal change ups. "Guess Who's Back" is a hype soul record sprinkled with dj cuts that finds the super emcee collabing with artists North the Emcee & Theo Write. "Skit 5" finds Derrell level headed and back in good graces with our lord & savior Jesus Christ. Thru Christ, Clifton was propelled onto a path of righteousness and fulfillment. It also brings about a close to "The Day Job" with the "Outro". The song is one based on a religious sense and is carried out as a praise to Christ and all his wonderful blessings bestowed upon "The Day Job" project creator.
If you are looking for something with big hit singles then you're out of luck cause this isn't the basis behind the album. "The Day Job" is a concept project meant to be played from start to finish, giving the listener an inside view. They will piece Clifton's story into their own personal struggles and accomplishments. The fact that Derrell has incorporated Christ into this project is an added bonus. Thru his story, it serves as living proof that thru the Lord anything is possible. I highly recommend this project to all fans of hip hop, music enthusiasts that enjoy concept albums with strong meaning and for anyone struggling in life and questioning their faith in God. Head over to iTunes now to preorder the album or for purchasing on January 15th.
Reviewed by: @blitzb_60505