Wrightsville Beach, North Carolina hip hop duo The Collective Dialect make their way to the back of the bar to serve up an abundant amount of musical booze and then proceed to pass out life jackets so listeners don't begin "Drowning In Sound", Dialect's brand new mixtape. Sixteen records that lean on hip hop heavily all throughout while blending other genres of music into the mix such as blues, soul, new age and soft rock. The project also features production from the likes of D.R.O., Rob Fel, Low Res and many others who help lay the foundation for a nice representation for North Carolina hip hop.
Things kick off on a classy tip on the Rat Pack vibe of "Good Evening", the mixtape's opening song with it's very catchy hook. We receive deep contemplation on the title track, "Drowning In Sound". With it's hypnotic bassline and clever beat switch up at the tail end, this is one of Collective Dialect's stronger songs. The project then continues strong with "Renaissance Men", a powerful beat from legendary producer Pete Rock helps the fellas muster up lyrics such as "No disrespect to Logic/ but I'm the young Sinatra/ a skinny Guinea from New Yiddy/ all I eat is pasta" helps set a made man like tone. This record is also one of the mixtape's standout cuts. The Pascäal produced "The Sprawl" is like soul music on acid, a melting pot of genres that the guys flow seamlessly thru.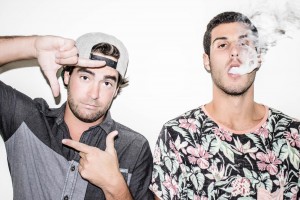 "La Di Do" finds C.D. flowing over a producer who also calls North Carolina home, 9th Wonder. A playful, unquantized hip hop drum pattern gives the duo a record to clown around on. "Death Created Time" walks the same path as "Drowning In Sound" does with a moving chorus line to accompany the sweet production of Rob Fel. "Weekend" is theme music to kick off the end of the work week properly, along with it's classic hip hop horn and harp samples. "Just My Type" picks up that lounge like feel of the intro track, "Good Evening", Dialect does a great job at creating these types of records. The mixtape then concludes with the soft rock record, "No Guarentees". This would be a great record for radio and it's the perfect touch to end the project with.
However, "Drowning In Sound" does have some down moments. Songs such as "Absurdity" feel forced and the big top themed production on "Circus Satanicus" can get a bit nerve wrenching after a few listens. Other than that, The Collective Dialect deliver a solid hip hop project. I would recommend it to fans of mid-nineties hip hop, weed and liquor connoisseurs and those people in search of something different, music that goes against the cookie cutter content of radio. Stream the album in its entirety, then head over to The Collective Dialect's Bandcamp page to download "Drowning In Sound" for free.