Wisconsin rapper Scumbag Kea aims to represent his hometown of Oshkosh while providing some very solid party anthems with his debut album, "In Line". The projects is made up of twelve tracks, with two of those records being comprised of interludes. Featuring production from Bob Frank, Seco Scott Elite, Alegal and Scumbag himself, the instrumental selections are club infused and very energetic. Kea's nasal like flows makes for a great combination for "In Line". After the initial interlude, Scumbag wastes no time displaying his verbal ability on the swang happy, "Breathe". That takes us immediately to "Yew Who", which is a cross between Eminem's "My Name Is" and a DJ Mustard beat. This song, in more words then less, sums up what the Oshkosh rapper is all about. "I'm The Man" is riddled with hard trap bass and is one of those songs you'd throw on going out on a Friday night with the team.
The next record carries the first guest feature on "In Line" from Rhianna Cundy titled "Don't Listen", a very laid back record compared to all the other songs. Though the track takes a second to build, once Kea kicks off his verse things pick back up. "Pour Drink" is Scumbag's obvious radio smash, with it's high intensity beat and liquor enhanced chorus. This song would have the best chance of finding its way onto radio. The album then kicks into another interlude featuring just a beat, giving folks the chance to kick a drunk freestyle or take a quick smoke break before "In Line" kicks back in and you will have needed it once "Live Life" begins. Bentley and Maly Vang make an appearance on the cut where we find Kea in rare form speaking on a more serious level with Da souloLife handling the production.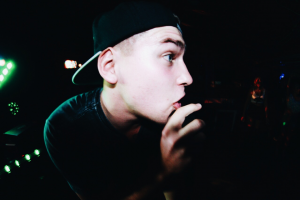 "Wake Up" then finds the rapper dealing with relationship woes and his own personal demons. "Just Go" features a three way production fest from Original Vision, Scumbag Kea and Bob Frank. This is another track that carries the strength of finding itself onto radio with it's viral beat and beautifully sung hook courtesy of Alicia Nakia Rae. The title track "In Line" features a collab with $killz and by the sounds of it, I'd put money down that these two fellas were under the influence of something with all the hypeness that's on display on this one. The album then concludes with the haunting "Pray For Em" where SK goes all in, balls to the wall and maintains perfect cadence on parts of the song where it's obvious he's done ran out of breath.
All in all, "In Line" is a well rounded album consisting of a great selection of beats & production. Although the project does carry some flaws such as the less creative beginning interlude and the initial stalling out on "Don't Listen", other songs such as "Breathe", "Yew Who", "Pour Drink" and "Pray For Em" make up for it. This album is highly recommended to those listeners looking for banging beats, energy inducing tracks and for those party animals out there. Make sure to check out "In Line", which is available online now.
Reviewed by: @blitzb_60505