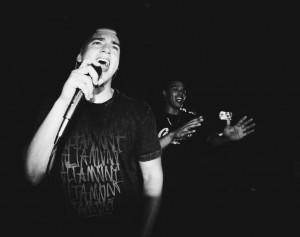 Welp Buzzers, the winter has officially kicked off earlier than expected this year but no need to fret because the artist we are being joined by is gaining steam and staring to warm things up fast. And by the sounds of songs such as "Yew Who" & "Pour Drink", the aspiring rapper/ producer has no problem heating things up for us on these frigid days. He's also prepping his debut album for a December 8th release. For this edition of our "Buzz'N" iNterview series we are joined by Oshkosh, Wisconsin's Scumbag Kea.
So let's just jump right into it why don't we? Scumbag Kea… what's the real story behind the stage name? It's one of the more unique names we've came into contact with. LOL!
I feel like everybody in today's society passes far too much judgement, especially when its the first thing heard or seen about someone/something. I ended up on the name Scumbag Kea because it is appealing, yet distasteful at the same time. I'm sure some people off top write me off just because of my name. Then the day comes where they stumble upon me again, and regret that initial decision. Perhaps they learn from that, and will be less likely to diss something based off face value in the future.
You've just recently started taking your musical abilities on a more serious note. What sparked your drive to grab the bull by the horns and go all chips in with your music career?
Yew only live once man, as cliche as that sounds. Believe it or not I study nursing, but I have always loved music. I thought it was about time to do the damn thang last June.
For those unfamiliar to you and your music, a great track to start off with is the club vibe infused, "Pour Drink". Although the beat sounds like it was supplied by DJ Mustard, it was in fact produced by Alegal. The songs amassed over 56k plays on Soundcloud and thus far, has been your most played record to date. What was the inspiration behind the song and could you talk a little about your relationship with Alegal?
My homie Devon Alexander who features on that song actually just referred me to Alegal. I don't even know the dude to be honest. It really popped because we did a lot of promo in the area (word of mouth, several friends with large twitter accounts RT'ing and homies that were DJs pushed my stuff.) I have a few more tracks produced by Alegal on the album, homie is good stuff.
Another one of your more well known tracks is "I'm The Man", which features production from Scott Seco Elite, who provides a sweet instrumental that has you going ham. Why did you choose that specific title for this cut?
Everyone has gotta have the mindset that yew are the best in the game, even if yew are not. "I'm The Man" is just me asserting myself in a very cocky way that I'm here.
You not only rap but produce as well. At this point in your career, who have provided beats for so far? Also, if you could select three independent artists to collab with, who would they be and why?
I make beats for myself. I started out making beats actually. This album upcoming album doesn't feature much beat production besides tweaking drums and adding/ dropping instruments. Also my engineer, Bob Frank, helps out with that stuff too. Future projects will definitely feature more my skills, and a tighter knit group of producers. As for artists, I can't really say that off top. If I want to make music with someone I reach out to them. If it happens, it happens. Milwaukee and Madison artist are next up though. Shouts to WebsterX, D. Bridge, $killz, Charles Grant, and Lord of the Fly.
Let's jump back to your rapping persona. You just recently released your official debut video for the standout single, "Yew Who". The video is entertaining to say the least, that shopping cart scene & the shaving cream mirror scene had me cracking up big time! LOL! Talk a little about the video's director, Steven Heil. Also you feel that infusing a strong sense of humor in music is important in these times of trap music?
To be honest I feel like that "trap star rap" is on it's way out. I'm not gonna lie I loved Jeezy, Gucci, Waka, etc. BUT there is a new era in hip-hop, and I love it. I can't say I make music to be funny, or even to fit a certain style or genre or Rap/Hip-Hop. "Yew Who" is literally me in a song. Those who can relate to me, I LOVE/LIKE YEW. The director, Steven, is a homie from high school who has always been about his biz. Hit him up, he will finesse a video of premium quality for ya.
You are less than a month away from the release of your debut album, "In Line", which is slated for a December 3rd release. What can listeners expect from the LP? Did you produce any or all of the album? Are there any other artists making cameos on the project or is it a pure solo venture?
A few tracks I have co-produced. I am still learning my way in this world that is Hip-Hop. Expect a lot of different sounds and styles. I really wanted to display my versatility as a rapper/spitter/ finesser. There are party songs, cocky rap songs, songs about the struggle of love & drug addiction and songs about DOING YEW. Yeah I have a decent amount of features on the album. The most recognizable to yew guys would be D. Bridge and $killz, both out of Milwaukee. Shouts.
Kea, do you have any upcoming shows or events you'd like to make our readers aware of?
Working on that as we speak. I'm not good at multi-tasking, so I really have been focusing on finishing this album. After the album release, shows are about to pop off.
For those not already connected to you thru social media outlets, where all can one find you on the world wide web?
Twit/Insta—> @Scumbagkea. Soundcloud—> Scumbag Kea. The book of faces—> Keag Dittel or Scumbag Kea
It's been fun having you with us Scumbag, before we close the curtain, is there anyone you'd like to thank our shoot a shoutout to?
THANK YEW for having me. Yeah shouts to my creators/family, my OG scums, Bob Frank, John Schaeffer, my photographer Kenny, My MKE squadron, and ALL OF MY FANS!
Scumbag Kea may be a newbie to the music scene but his drive is strong and it's obviously rubbing off on anyone that comes into contact with his music. We'd like to thank Kea for joining us for this edition of our "Buzz'N" iNterview series. Make sure to cop "In Line" December 3rd and get tuned in to Scumbag's social media outlets for updates. Until next time Buzzers, stay warm out there.
Interview by: @blitzb_60505