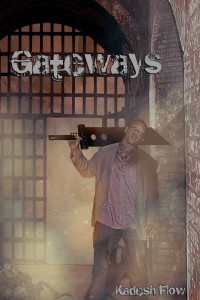 Kadesh Flow isn't your typical emcee per say. The Alabama transplant hit college and earned his MBA and is now working for a major healthcare IT firm. Though he has released music in the past, he has recently released his first, full length project titled, "Gateways". The fifteen track project features music samples from role playing video games such as "Final Fantasy" and anime series such as "Attack of Titan" and is used to help better depict Desh's journey in life. Let's take an in depth look into "Gateways" now.
The jumpoff track, "Defining The Sublime", opens up with a medieval soundscape that finds Flow detailing his break from music to pursue a college career and the transitiong back to it. "She's Leaving" carries swift piano & organ riffs and a somber story of a tainted relationship. Track 3 features A2z and is titled "Hungry", a story of a hard working man that has a strong passion for hip hop. "Broke" finds Desh speaking of religious struggles, finances and pivotal moments in his life such as a childhood incident. On "Treat It Like A Game", we get Kadesh rapidly firing off lyrics over samples from the video game, "Sword Art Online", an appropriate title for this particular track.
For "B.Y.O.B.", Flow references the anime series, "Attack on Titan" and offers up the notion to break thru the boundaries one has set for themselves in order to fully blossom in life. The chorus is very powerful and the use of the Big Sean sample is a nice touch. "Samurai Jack" is referenced on "You Don't Know Jack" in which the Kansas City emcee speaks about the state of the world and how we're falling into a state of dystopia; a community or society that is in some important way undesirable or frightening. "Reflections" carries a soulful tone and samples "Samurai Champloo" quite well. Nickelodeon's "Legend of Korra" is somewhat mentioned on "Nobody Will", which touches on pride and doubts. "Assassin's Creed: Black Flag" is the focal point on "Like Whoa" where we find Kadesh going ham with a fast pitched delivery.
Yet again, Flow uses an anime series to depict times in his life on "Nothing's Promised". For this track, "Full Metal Alchemist" is used as a focal point with a hype chorus line. "I'm A Hero" once again samples a catch video game tune and finds the emcee proclaiming to be a hero as in all the anime and games he's been referencing on "Gateways", one of its standout tracks. Kadesh's power level is off the charts on "Over 9000", a take on one of the famous Drangonball Z scenes. Mister Wilson teams up with Kadesh on the Sega ode, "Bars For Days". The project then comes to a close on the mega produced, "The Troll", where Desh sums up being an emcee and the pitfalls of the hip hop culture these days as evident on the chorus.
"Gateways" may not be for everyone. The concepts and clever use of flipping the samples will fly over most people's heads, such as myself on the first few playd. However, once some light is shed on the project's symbology and the listener delves into the album deeper, it's a no brainer that "Gateways" is a very clever concept album full of great lyrics. The album will appeal to fans of anime & role playing games, fans of music that carries deep meanings where as you would need to decipher content and for those that are looking for new school hip hop music. Make sure to download "Gateways" today.
Written by: @blitzb_60505